Materials
BASF Ultrafuse® 316L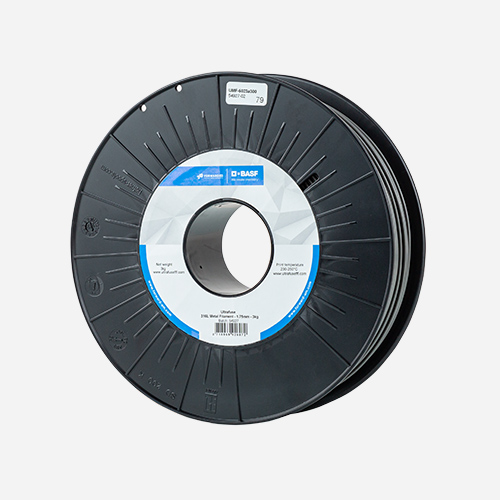 Materials
BASF Ultrafuse® 316L
Stainless steel composite 3D printing filament

An innovative metal-polymer 3D printing filament which enables users to produce 316L stainless steel parts.
Container: Spool
Net weight: 3000 g ± 5%
Diameter: 1.75 mm

Dedicated for:
Description
BASF Ultrafuse® 316L is an industrial composite filament compatible with the LPD Plus Zortrax Endureal 3D printer. It has features that allow users to produce metal parts in a safe, easy, and cost-effective way in comparison with Metal Injection Molding or metal machining. The filament contains 80% 316L stainless steel particles and 20% of polymer content.
BASF Ultrafuse® 316L can be used for 3D printing complex metal end-use parts, functional prototypes, medical equipment, automotive parts, chemical pipes or valves, elements of tools or fixtures. Printed parts have up to 561 MPa tensile strength, 251 MPa yield strength, up to 53% elongation at break, and have austenitic (non-magnetic) microstructure.
3D prints gain their unique properties through the proprietary catalytic debinding and sintering process, outsourced at Elnik Systems GmbH. During this process, 3D printed "green parts" turn into fully metal "brown parts." As a result you receive non-magnetizable elements with high corrosion resistance. During the post-processing procedures, BASF Ultrafuse® 316L models shrink by about 20%. This effect should be taken into account when preparing models for 3D printing.
Stainless steel contains over 10% of chromium which in contact with oxygen forms a thin surface layer protecting it from corrosion as well as making this alloy esthetically pleasing, easy to maintain and sterilize.
The downside is the chromium makes 316L steel relatively soft.
It can be used for:
corrosion-resistant automotive parts
parts exposed to chemicals and liquids
ecorative parts like trims and grills
hydraulic systems' components
food containers
corrosion-resistant precision mechanisms
functional prototypes
metal end-use parts, such as electronics covers
medical equipment
automotive parts, such as engine brackets
components for chemical industry
parts intended for welding,
tooling, jigs, fixtures.
Technical Properties
Properties
Metric
English
Test Method
Tensile strength
561 MPa
81.37 ksi
ISO 6892-1
Yield strength
251 MPa
36.4 ksi
ISO 6892-1
Elongation at break
53%
53%
ISO 6892-1
Vickers hardness (HV10)
128
128
ISO 6507-1