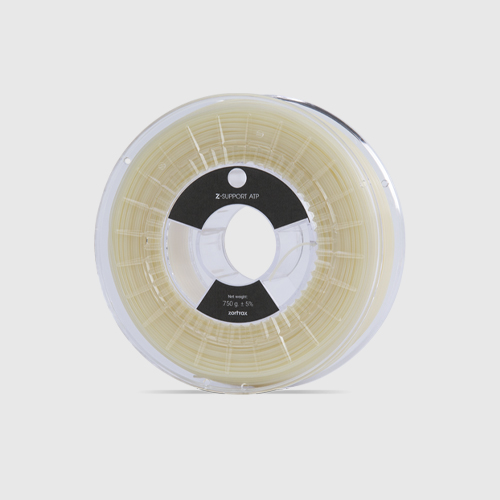 Materials
Z-SUPPORT ATP
Soluble low-temp support material

Z-SUPPORT ATP is a soluble support material for low-temp polymers.

Container: Spool
Diameter: 1.75 mm
Net weight: 750 g ± 5%

Dedicated for:
Availability:
Out Of Stock
Description
Soluble support for low-temp polymers
Z-SUPPORT ATP is a soluble support filament dedicated for printing with Z-ULTRAT, Z-ULTRAT Plus, Z-ABS and Z-ASA Pro. Unlike materials based on PVA or BVOH, it does not dissolve in water but in a mild alkali created by mixing it with Z-SUPPORT ATP Activator. By dispensing with water-solubility, the material has been made a lot less sensitive to ambient moisture. Models printed with Z-SUPPORT ATP should be post-processed in a heated, stirred bath at a temperature of 80° C.
Main Features:
Made to support low-temp polymers
Long shelf-life
Low absorption of moisture
Protect from water, moisture and direct sunlight.
Store in a dry room, in closed and air-tight packaging with desiccant when not in use.
Store at ambient temperatures. Avoid all sources of ignition.