Due to the declaration of bankruptcy by Wirecard, which is one of the largest financial service providers in Europe, the option of making payments via VISA and Mastercard on our websites is available via PayPal.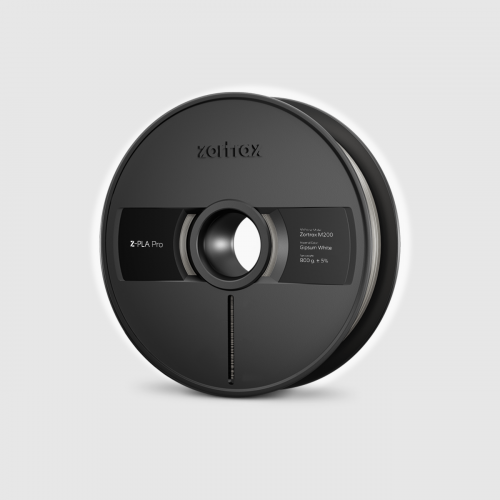 Materials
Z-PLA PRO
Eco-friendly Smoothness
A biodegradable filament for 3D printing extremely detailed objects with smooth, non-shiny surfaces. The material also works great in large models due to its low shrinkage.
Lead time: 30 days
Container: Spool
Diameter: 1.75 mm
Net weight: 800 g ± 5%

Dedicated for:
Description
Eco PLA Filament
Z-PLA Pro is a biodegradable 3D printing material with an addition of gypsum. The filament offers even, matt surfaces that make the details more visible. Reduced shrinkage allows for 3D printing large models with almost no warping. Main Features:
High detail 3D printing
Smooth, matt surface
Eco-friendly
Very low shrinkage
Composition:
PLA (polylactic acid)
Biopolymers
Additives and colorants
Applications
Large-size models
Architecture mock-ups
Detailed conceptual models
Educational models
Consumer goods
Models required to be biodegradable
Technical Properties
Properties
Metric
English
Test Method
Tensile Strength
28.78 MPa
4170 psi
ISO 527:1998
Flexural Modulus
1.83 GPa
265 ksi
ISO 178:2011
Shore Hardness (D)
77.6
77.6
ISO 868:1998