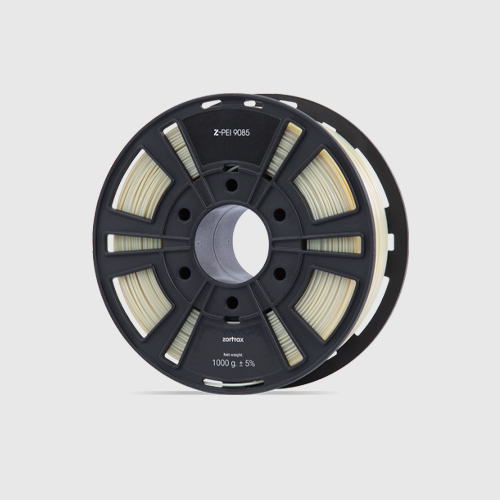 Materials
Z-PEI 9085
Flame-retardant high-temp polymer
Z-PEI 9085 is a flame-retardant, highly durable aerospace-grade material.

Container: Spool
Diameter: 1.75 mm
Net weight: 1000 g ± 5%

Dedicated for:
Description
Versatile aerospace-grade material
This material can be used for printing various parts like ductwork, electrical enclosures, or interior elements in aircraft and ground vehicles. It is also suitable for printing industrial components. Parts fabricated out of Z-PEI 9085 are used by the tire industry in machinery made for processing rubber. The material is also used by one of the leading manufacturers of helicopters to build over 1000 parts for their best-selling aircraft.


Main Features:
An inherently flame retardant high-performance polymer

Widely adopted in the aerospace industry for aircraft interiors

Very low FST (Flame, Smoke, Toxicity)

Heat deflection temperature at 167° C
Technical Properties
Properties
Metric
English
Test Method
Tensile Strength, Break
54 MPa
7830 psi
ISO 527
Glass Transition Temperature
186° C
367° F
DSC
Flamability Rating (*Base Resin)
V-0 @1.5mm
V-0 @1.5mm
UL 94