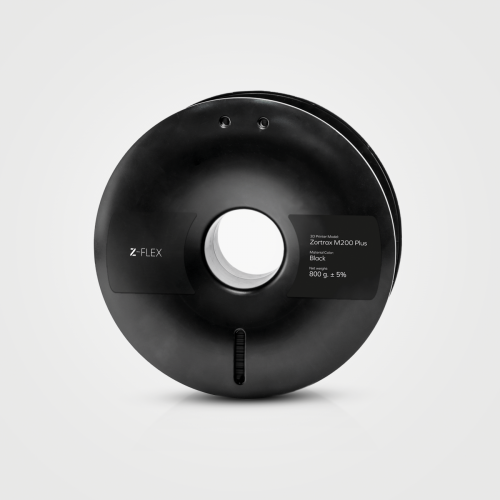 Materials
Z-FLEX
Fast Extrusion and Flexibility
An elastic filament which can be 3D printed at a fast rate. The material is also resistant to chemicals and can be used in parts which need to bend frequently.
Container: Spool
Diameter: 1.75 mm
Net weight: 800 g ± 5%

Dedicated for:
Availability:
Out Of Stock
Description
Elastic Flex-Type Filament
Z-FLEX is an elastic 3D printing thermoplastic that is able to withstand bending. The material has a relatively fast extrusion time and possesses great layer adhesion and dimensional tolerance. It is also resistant to low temperatures reaching -40°C and the use of various chemicals, such as gasoline, ethyl alcohol, butane, and carbon monoxide.
Main Features:
Fast extrusion
Resistant to low temperatures and chemicals
Elasticity
Composition:
Butylene / Poly(alkylene ether) phthalate
Applications
Elastic hinges
Gaskets
Rubber-like figurines
Prototypes of tires
Bands
Phone cases
Technical Properties
Properties
Metric
English
Test Method
Shore Hardness
31D
31D
ISO 868:1998
Elongation at Break
3319.12%
3319.12%
ISO 527:1998
Resistance to Surface Abrasion
95 mg
1.46 gr
D1044 (wheel H-18)