Due to the declaration of bankruptcy by Wirecard, which is one of the largest financial service providers in Europe, the option of making payments via VISA and Mastercard on our websites is available via PayPal.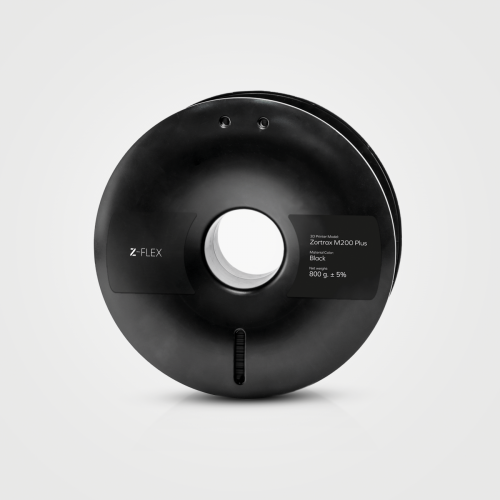 Materials
Z-FLEX
Fast Extrusion and Flexibility
An elastic filament which can be 3D printed at a fast rate. The material is also resistant to chemicals and can be used in parts which need to bend frequently.
Lead time: 30 days
Container: Spool
Diameter: 1.75 mm
Net weight: 800 g ± 5%

Dedicated for:
Description
Elastic Flex-Type Filament
Z-FLEX is an elastic 3D printing thermoplastic that is able to withstand bending. The material has a relatively fast extrusion time and possesses great layer adhesion and dimensional tolerance. It is also resistant to low temperatures reaching -40°C and the use of various chemicals, such as gasoline, ethyl alcohol, butane, and carbon monoxide.
Main Features:
Fast extrusion
Resistant to low temperatures and chemicals
Elasticity
Composition:
Butylene / Poly(alkylene ether) phthalate
Applications
Elastic hinges
Gaskets
Rubber-like figurines
Prototypes of tires
Bands
Phone cases
Technical Properties
Properties
Metric
English
Test Method
Shore Hardness
31D
31D
ISO 868:1998
Elongation at Break
3319.12%
3319.12%
ISO 527:1998
Resistance to Surface Abrasion
95 mg
1.46 gr
D1044 (wheel H-18)