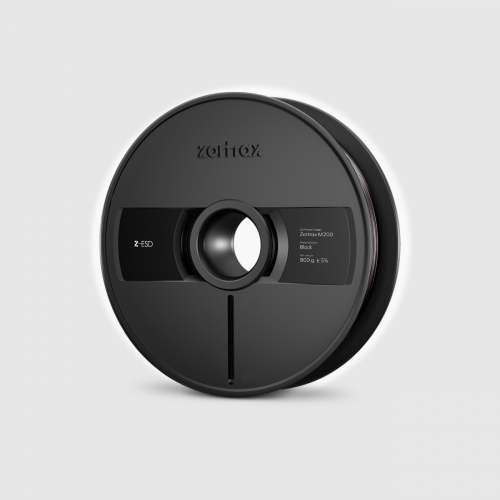 Materials
Z-ESD
Electrostatic Protection
The filament is perfect for the electronic industry as it guarantees electrostatic discharge protection for your 3D printed models along with resistance to acids, alkalis, and salts.
Availability:
Out Of Stock
Description
ESD-safe Filament
Z-ESD material allows for 3D printing models with electrostatic discharge protection which makes it a reliable choice for electronic industry. Reduced shrinkage and warping let you 3D print precise end-use parts and tools. Z-ESD filament is also resistant to salts, acids, and alkalis.
Main Features:
Electrostatic discharge protection
Resistant to most acids, alcohols and weak alkalis
Low shrinkage and warping
Composition:
PETG (polyethylene terephthalate glycol-modified) – 96%
Carbon-Based Conductive Additives – 2 ~ 8%
Additives and colorants – 0 ~ 4%
Applications
Industrial parts and tools
End-use parts
Casings for electronic devices
Parts required to be resistant to chemicals and electrostatic discharge

As Z-ESD and Z-ESD v2 are two types of ESD in our offer, we recommend making sure which one you're using by checking the material sticker visible on a spool to choose the right printing profile. In case you're printing a .zcode or .zcodex previously sliced for Z-ESD, slicing them again with Z-ESD 2 profile is necessary for printing with the 2 material type.

Technical Properties
Properties
Metric
English
Test Method
Breaking Stress
30.73 MPa
4460 psi
ISO 527:1998
Glass Transition Temperature
79.93° C
176° F
ISO 11357-3:2014
Specific Density
1.285 g/cm3
10.7 lb/gal
ISO 1183-3:2003