Materials
BASF Ultrafuse® 17-4 PH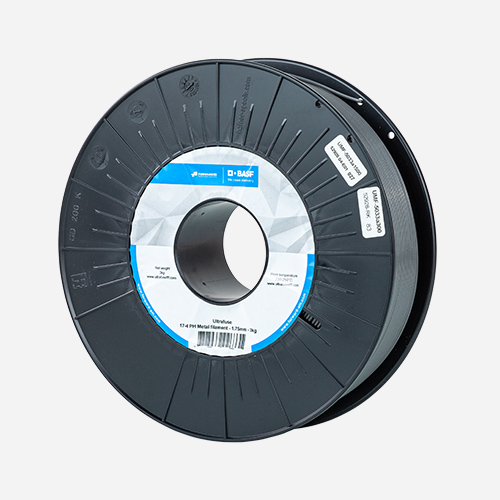 Materials
BASF Ultrafuse® 17-4 PH
Stainless steel composite 3D printing filament

An innovative metal-polymer 3D printing filament for 17-4 PH stainless steel parts with high hardness and mechanical strength.

Container: Spool
Net weight: 3000 g ± 5%
Diameter: 1,75 mm

Dedicated for:
Description
BASF Ultrafuse® 17-4 PH is an industrial composite filament compatible with the LPD Plus Zortrax Endureal 3D printer. It has features that allow users to produce metal parts in a safe, easy, and cost-effective way in comparison with Metal Injection Molding or metal machining. The filament contains 80% 17-4 stainless steel particles and 20% of polymer content.
BASF Ultrafuse® 17-4 PH can be used for 3D printing strong metal end-use parts, functional prototypes, elements requiring weather resistance, medical equipment, automotive parts, chemical pipes or valves, elements of tools or fixtures. Printed parts have up to 1004 MPa tensile strength, 764 MPa yield strength, up to 4% elongation at break, and have martensitic (magnetic) microstructure.
3D prints gain their unique properties through the proprietary catalytic debinding and sintering process, outsourced at Elnik Systems GmbH. During this process, 3D printed "green parts" turn into fully metal "brown parts." As a result you receive magnetizable elements with high corrosion resistance. During the post-processing procedures, BASF Ultrafuse® 17-4 PH models shrink by about 20%. This effect should be taken into account when preparing models for 3D printing.
17-4 PH steel contains more carbon than the 316L grade which makes it significantly stronger and harder. But this higher percentage of carbon also makes it more brittle and prone to corrosion.
It can be used for:

petroleum industry parts,
paper processing machinery,
aerospace parts,
structural frames,
turbine blades,
functional prototypes,
metal end-use parts,
elements requiring weather resistance,
medical equipment,
automotive parts,
components for chemical industry,
parts intended for welding,
customized tooling, jigs, fixtures.
Technical Properties
Properties
Metric
English
Test Method
Tensile strength
1004 MPa
145.62 ksi
ISO 6892-1
Yield strength
764 MPa
110.81 ksi
ISO 6892-1
Elongation at break
4%
4%
ISO 6892-1
Vickers hardness (HV10)
309
309
ISO 6507-1