Materials
BASF Ultrafuse® PP GF30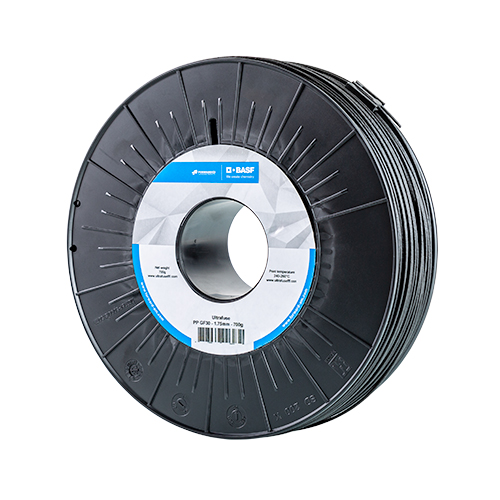 Materials
BASF Ultrafuse® PP GF30
BASF Ultrafuse PP GF30 is a composite filament - PP with a 30% addition of glass fiber - resistant to heat, UV, and chemicals.
BASF Ultrafuse PP GF30 has strong abrasive properties, therefore, a hardened steel nozzle with a diameter of 0.6 mm should be used when 3D printing.

Container: Spool
Diameter: 1.75 mm
Net weight: 700 g ± 5%

Dedicated for:
Description
BASF Ultrafuse® PP GF30 is polypropylene-based filament with a 30% addition of glass fiber. It is one of the most frequently selected material in various industries, especially in the automotive sector, due to its high resistance to heat, UV light, and chemicals. It is characterized by high stiffness and dimensional accuracy. BASF Ultrafuse PP GF30 works best when printing lightweight, functional prototypes intended for demanding tests in unfavorable humid environment. The filament is also suitable for structural parts, tools, and fixtures.
Applications:
Industrial functional prototypes
Parts exposed to humidity and chemicals
Structural parts, such as frames, brackets, shafts
Tools and fixtures
Sporting equipment
Main features:
High heat resistance
Resistance to UV light and chemicals
High stiffness
Lightweight

Composition:
Polypropylene with a 30% addition of glass fiber
Technical Properties
Properties
Metric
English
Test Method
Flexural Modulus
3507 MPa
509 ksi
ISO 178
Tensile Strength
41.7 MPa
6.0 ksi
ISO 527
HDT at 0.45 MPa
127 °C
261 °F
ISO 75-2