Materials
BASF Ultrafuse® PAHT CF15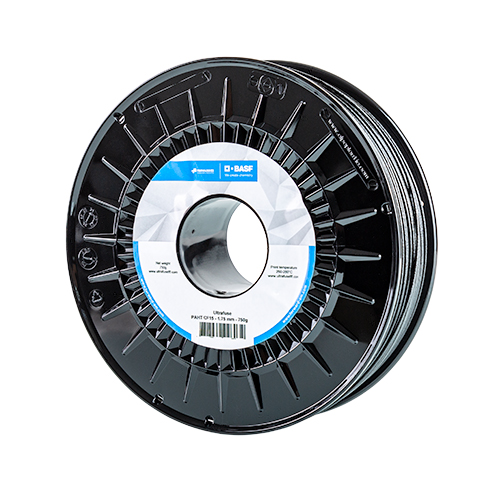 Materials
BASF Ultrafuse® PAHT CF15
BASF Ultrafuse PAHT CF15 is an industrial filament with a polyamide base and a 15% addition of micro-carbon fibers.
BASF Ultrafuse PAHT CF15 has strong abrasive properties, therefore, a hardened steel nozzle with a diameter of 0.6 mm should be used when 3D printing.

Container: Spool
Diameter: 1.75 mm
Net weight: 750 g ± 5%

Dedicated for:
Description
BASF Ultrafuse® PAHT CF15 is an industrial-grade filament with a special formulation consisting of a polyamide base and a 15% addition of micro-carbon fibers. The material combines the durability of nylon with rigidity of carbon fiber, while still retaining easy processability. It shows high stiffness, high dimensional stability, chemical resistance, and it withstands the temperatures reaching up to 150 °C. PAHT CF15 is a perfect fit for projects in engineering, robotics, automotive, aerospace, and other industries working in harsh conditions.
Applications:
Industrial functional prototypes,

Parts exposed to stresses and chemicals,
End-use parts in automotive and robotics sectors,
Tooling equipment,
Jigs, fixtures, brackets, and shafts
Main features:
High heat resistance
High stiffness
High dimensional stability

Very good printability
Composition:
Polyamide base with a 15% addition of carbon fibers.
Technical Properties
Properties
Metric
English
Test Method
Young's Modulus
8386 MPa
1216 ksi
ISO 527
Elongation at Break
1.8 %
1.8 %
ISO 527
HDT at 0.45 MPa
145 °C
293 °F
ISO 75-2