3D Printers
Zortrax M300 Dual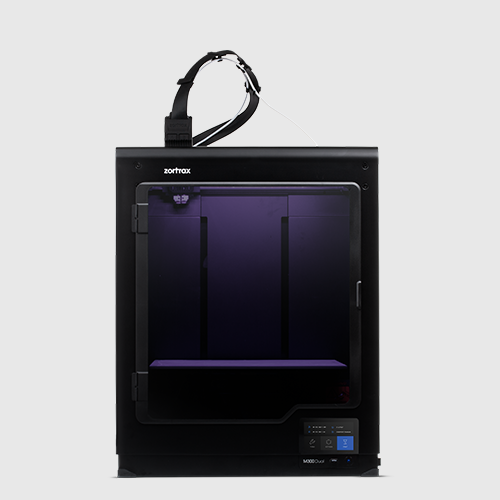 3D Printers
Zortrax M300 Dual
Professional large volume dual-extrusion 3D printer.
Lead time: 60 days

Device features:
Works in the LPD Plus dual-extrusion technology

Has a 265x265x300 mm workspace

Has Wi-Fi, USB, and Ethernet connectivity

Has a blackout response system

Calibrates a build-platform with a capacitive displacement sensor

Compatible with perforated, glass, and other build platforms

Supports single and dual extrusion modes

Works with third-party filaments

Has built-in video streaming camera
Description
Large-volume dual-extrusion
Zortrax M300 Dual relies on the dual-extrusion LPD Plus technology to simultaneously print with base and water-soluble support filaments in a large build volume measuring 265x265x300 mm.
Fail-safe 3D printing
The M300 Dual can detect a power outage, jammed filament, and material running out. In each case it pauses the print and saves the exact position of the printing head. This way your work can be resumed from the same spot when the problem has been dealt with.
Interchangeable build-platforms
With a capacitive displacement sensor the M300 Dual can automatically calibrate to work with glass, perforated, or other types of build platforms. This way it's possible to customize the printer for the project at hand.
Specification
265 x 265 x 300 mm (10.4 x 10.4 x 11.8 in)
0.4 mm (0.016 in) - standard, 0.6 mm (0.024 in)
Dual material extruder with material jam detection
Two fans cooling the extruder, radial fan cooling the print
Heated, perforated and glass plates are applicable
Available materials (single extrusion)
Z-ABS, Z-ASA Pro, Z-ESD, Z-FLEX, Z-GLASS, Z-HIPS, Z-NYLON, Z-PETG, Z-PLA, Z-PLA Pro, Z-ULTRAT, Z-ULTRAT Plus, BASF Ultrafuse® PP GF30, BASF Ultrafuse® PAHT CF15
Available materials (dual extrusion)
Z-ABS, Z-ASA Pro, Z-ESD, Z-GLASS, Z-NYLON, Z-PETG, Z-PLA, Z-PLA Pro, Z-SUPPORT ATP, Z-SUPPORT Premium, Z-ULTRAT, Z-ULTRAT Plus,
Mechanically removed - printed with the same material as the model
Dissolvable - printed with a different material than the model
3D Printer, Side Covers, Z-SUITE, Starter Kit, Spool of Model Material, Spool of Support Material, 1x Perforated Platform, 1x Glass Platform, 2x Spool Holders, Material Box, USB Memory Stick
LPD Plus (Layer Plastic Deposition Plus) - advanced technology with the system of Dissolvable Support Structures
150-300 microns (for 0.4 mm/0.016 in nozzle)
450 microns (for 0.4 mm/0.016 in nozzle)
Automatic measurement of platform points height/Manual measurement of platform points height
Maximum printing temperature (extruder)
Maximum platform temperature
Ambient operation temperature
110 V ~ 5.9 A 50/60 Hz 240 V ~ 2.5A 50/60 Hz
Maximum power consumption
Supported input file types
.stl, .obj, .dxf, .3mf, .ply
Supported operating system
Mac OS Mojave* / Windows 7 and newer versions
*Since the release of macOS Big Sur, we've been developing Z-SUITE's best possible operation on this system and all its future updates. The available version is fully functional, however minor bugs may occur.