3D Printers
Zortrax Endureal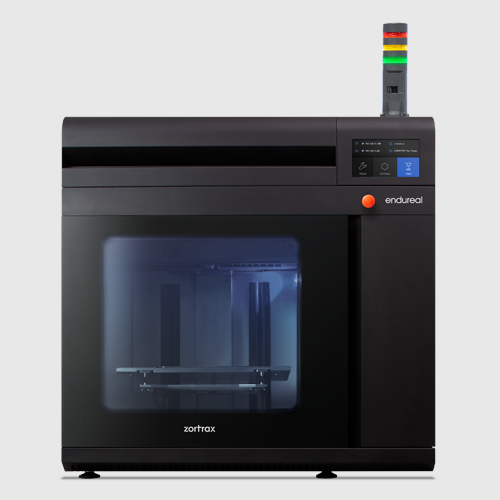 3D Printers
Zortrax Endureal
An industrial dual extrusion 3D printer for high-performance polymers.

Device features:
High-temp polymers processing capability

LPD Plus dual extrusion technology

Build space measuring 400 x 300 x 300 mm

Build platform heated up to 220° C

Printing chamber temperature user-defined up to 200° C

Extrusion temperature up to 480° C

Advanced thermal management systems

Advanced self-diagnostics with a wide array of sensors

200-250 microns layer resolution with a 0.4 mm nozzle

450 microns minimal wall thickness with 0.4 mm nozzle

Easily maintained
Get your 3rd generation industrial 3D printer
3D print with the strongest polymers on the planet. Request a quote for Zortrax Endureal.
Thank you for your interest in the Zortrax Endureal 3D printer.
We will be getting in touch with you soon.
An error occured. Please try later.
Description
High-temp polymers processing
Zortrax Endureal is an industrial machine designed for processing of high-temperature polymers like Z-PEI 9085 or PEEK-based materials. Such materials require very high extrusion temperatures but offer excellent mechanical properties comparable to metal alloys. Z-PEI 9085 is an aerospace-grade polymer used to build flame-retardant elements of aircraft interiors. It is one of the few 3D printing materials cleared for use onboard the International Space Station. Z-PEI 9085 can be printed with breakaway support structures in dual extrusion mode.
Three thermal zones
Operating at very high temperatures, the Endureal has three thermally shielded zones. Due to this thermal shielding, the extruder and filament cables are kept in an environment not exceeding 50° C even when the chamber right beneath them is heated up to 200° C. The third thermal zone is the filament chamber where filaments are stored at optimal temperature and humidity.
High user-serviceability
Zortrax Endureal has been designed to be highly user-serviceable. All key components like the extruder, hotend or nozzles can be quickly replaced in-house without voiding the warranty. A maintenance kit that comes with the printer contains all necessary parts and consumables to ensure uninterrupted operation. There is no need to wait for qualified service personnel to intervene in most cases.
Advanced thermal management
Temperatures at each thermal processing stage a polymer has to go through in the Zortrax Endureal can significantly affect the mechanical properties of the printed model. That's why the temperatures at three crucial points i.e. at the extrusion, and the build platform and in the printing chamber can be precisely defined by the user. This way, the Endureal can be quickly fine-tuned to work with most high-temp polymers on the market as well as experimental or custom-made materials available in small amounts.
Specification
400 x 300 x 300 mm (15.7 x 11.8 x 11.8 in)
Two fans cooling the extruder, radial fan cooling the print
High-temperature dual hotend
Heated, aluminum plate coated with PEI
2 x mechanical endstop, 2 x material weight sensor
Available materials (single extrusion)
Available materials (dual extrusion)
Z-ULTRAT Plus, Z-PEI 9085, Z-SUPPORT High-Temp (breakaway), Z-SUPPORT ATP (soluble with Z-SUPPORT ATP Activator)
Mechanically removed - printed with the same material as the model
Breakaway - printed with a different material than the model
Soluble - printed with a different material than the model
3D printer, Z-SUITE, Starter Kit, Maintenance Kit, spool of model material, spool of support material, spool of high-temperature model material, spool of high-temperature support material, USB memory stick
LPD Plus (Layer Plastic Deposition Plus) advanced technology depositing melted thermoplastics with breakaway and dissolvable support structures
200-250 microns (for 0.4 mm/0.016 in nozzle)
450 microns (for 0.4 mm/0.016 in nozzle)
Automatic measurement of platform points' height
Maximum printing temperature (extruder)
Maximum platform temperature
Maximum build chamber temperature
Ambient operation temperature
120 V ~ 13 A 50/60 Hz 200 - 240 V ~ 9.5 A 50/60 Hz
Maximum power consumption
120 V - 1600 W 200-240 V - 2300 W
Supported input file types
Supported operating system
Mac OS X / Windows 7 and newer versions