3D Printers
Zortrax M200 Plus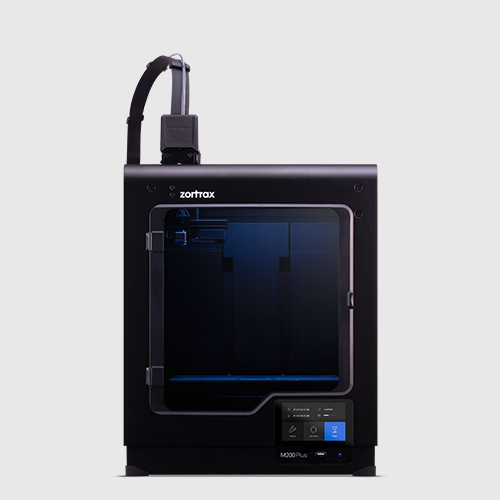 3D Printers
Zortrax M200 Plus
A high-performance desktop 3D printer with Wi-Fi connectivity.
Lead time: 30 days

Device features:

3D printing farms ready

Wi-Fi, Ethernet and USB connection

Built-in camera

User-friendly design of the touchscreen

Material End Detection

Upgraded extruder (compatible with advanced and semi-flexible filaments)

Upgraded cooling system (double fan and extruder cooling)

Upgraded hotend (V3) and nozzle with new geometry

Perforated plate with pogopins instead of small connector

Wide range of dedicated filaments

External materials are applicable

Optical endstops for the X and Y axes (previously mechanical)

A buzzer (improves device's workflow and reminds users about an important action they need to take)

Blackout Response System
Description
The New High-Performance 3D Printer
An advanced desktop 3D printer for low-volume production and large scale additive manufacturing. Based on the globally acclaimed Zortrax M200 printer, this model retains its high performance, remarkable accuracy and consistency, while adding wireless connectivity using Z-SUITE slicing software. It's also equipped with a built-in camera to manage the printing progress and a user-friendly touchscreen interface and at the same time adds wireless connectivity that helps monitor the printer via Z-SUITE slicing software. Side Covers are included.
Dedicated filaments: Z-ABS, Z-ABS 2, Z-ASA Pro, Z-ESD v2, Z-FLEX, Z-GLASS, Z-HIPS, Z-NYLON, Z-PCABS, Z-PETG, Z-PLA, Z-PLA Pro, Z-ULTRAT
Specification
200 x 200 x 180 mm (7.9 x 7.9 x 7.1 in)
Mechanically removed - printed with the same material as the model
Single (upgraded for more demanding materials)
Radial fan cooling the extruder block
Redesigned (v3), new geometry of the nozzle
Perforated, heated, equipped with Pogo pins
Z-ABS, Z-ABS 2, Z-ASA Pro, Z-ESD, Z-ESD v2, Z-FLEX, Z-GLASS, Z-HIPS, Z-NYLON, Z-PCABS, Z-PETG, Z-PLA, Z-PLA Pro, Z-ULTRAT
3D Printer, Hotend V3, Side Covers, Z-SUITE, Starter Kit, Material Spool, Spool Holder, USB Memory Stick
Weight and physical dimensions
350 x 360 x 505 mm (13.8 x 14.2 x 19.9 in)
350 x 430 x 505 mm (13.8 x 16.9 x 19.9 in)
470 x 480 x 570 mm (18.5 x 18.9 x 22.4 in)
LPD (Layer Plastic Deposition) – depositing melted material layer by layer onto the build platform
90-390 microns (for 0.4 mm/0.016 in nozzle)
Minimal optimal wall thickness
800 microns (for 0.4 mm/0.016 in nozzle)
450 microns (for 0.4 mm/0.016 in nozzle)
Automatic measurement of platform points' height
Maximum platform temperature
Maximum printing temperature (extruder)
Ambient operation temperature
110 V ~ 5.9 A 50/60 Hz 240 V ~ 2.5A 50/60 Hz
Maximum power consumption
.stl, .obj, .dxf, .3mf, .ply
Supported operating systems
Mac OS Mojave** / Windows 7 and newer versions
Each delivered printer may have worked up to 50 hours during the quality control test prints.
* The weight includes: the device with the platform, power cable and spool holder installed. It does not include the material spool.
**
Since the release of macOS Big Sur, we've been developing Z-SUITE's best possible operation on this system and all its future updates.
The available version is fully functional, however minor bugs may occur.