3D Printers
Zortrax M200 Plus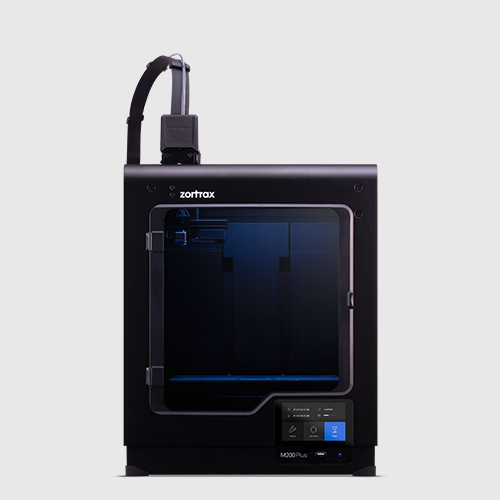 3D Printers
Zortrax M200 Plus
A high-performance desktop 3D printer with Wi-Fi connectivity.
Lead time: 60 days

Device features:

LPD technology

200 x 200 x 180 mm workspace 

Wi-Fi, USB and Ethernet connectivity

Blackout Response System

Built-in camera

User-friendly design of the touchscreen

Cooling system

Filament endstop mechanism

Flex-type materials compatibility

External materials support
Description
The New High-Performance 3D Printer
An advanced desktop 3D printer for low-volume production and large scale additive manufacturing. Based on the globally acclaimed Zortrax M200 printer, this model retains its high performance, remarkable accuracy and consistency, while adding wireless connectivity using Z-SUITE slicing software. It's also equipped with a built-in camera to manage the printing progress and a user-friendly touchscreen interface and at the same time adds wireless connectivity that helps monitor the printer via Z-SUITE slicing software. Side Covers are included.
Dedicated filaments: Z-ABS, Z-ABS 2, Z-ASA Pro, Z-ESD v2, Z-FLEX, Z-GLASS, Z-HIPS, Z-NYLON, Z-PCABS, Z-PETG, Z-PLA, Z-PLA Pro, Z-ULTRAT
Specification
200 x 200 x 180 mm (7.9 x 7.9 x 7.1 in)
0.4 mm (0.016 in) – standard / 0.3 mm (0.012 in) / 0.6 mm (0.024 in)
Single (compatible with demanding materials like TPU or nylon)
Radial fan cooling the extruder block
Z-ABS, Z-ABS 2, Z-ASA Pro, Z-ESD, Z-FLEX, Z-GLASS, Z-HIPS, Z-NYLON, Z-PCABS, Z-PETG, Z-PLA, Z-PLA Pro, Z-ULTRAT
Mechanically removed – printed with the same material as the model
3D Printer, Hotend V3, Side Covers, Z-SUITE, Starter Kit, Material Spool, Spool Holder, USB Memory Stick
LPD (Layer Plastic Deposition) – depositing melted material layer by layer onto the build platform
90-140 microns (for 0.3 mm / 0.012 in nozzle) 90-390 microns (for 0.4 mm / 0.016 in nozzle) 300-400 microns (for 0.6 mm / 0.024 in nozzle)
450 microns (for 0.4 mm / 0.016 in nozzle)
Automatic measurement of platform points' height
Maximum printing temperature (extruder)
Maximum platform temperature
Ambient operation temperature
110V ~ 5.9 A 50/60 Hz, 240V ~ 2.5 A 50/60 Hz
Maximum power consumption
Supported input file types
.stl, obj, .dxf, .3mf, .ply
Supported operating system
Mac OS Mojave and newer versions / Windows 7 and newer versions
Each delivered printer may have worked up to 50 hours during the quality control test prints.
* The weight includes: the device with the platform, power cable and spool holder installed. It does not include the material spool.
**
Since the release of macOS Big Sur, we've been developing Z-SUITE's best possible operation on this system and all its future updates.
The available version is fully functional, however minor bugs may occur.