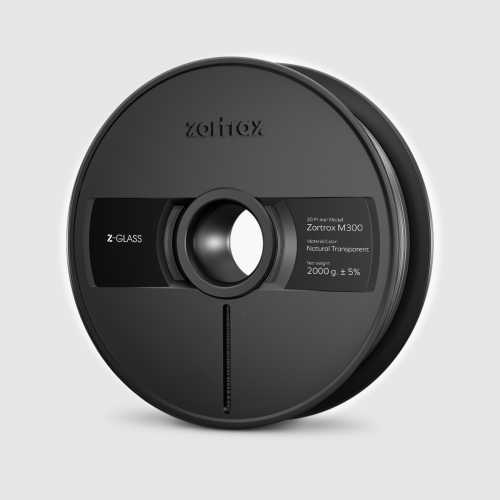 Sale %
Z-GLASS
Semi-transparent Effect
A light-transmitting filament for 3D printing translucent models in industrial and design applications. Z-GLASS material is also resistant to scratches, UV light, and chemicals.
126.00 USD
63.00 USD
The lowest price within 30 days: 63.00
USD
Description
Semi-transparent and Durable Filament
With Z-GLASS translucent filament you can 3D print light-transmitting end-use parts or prototypes. The material is durable and resistant to scratching, UV light, and chemicals. Z-GLASS guarantees precise 3D printed models due to very low shrinkage.
Main Features:
Light-transmitting
Resistant to scratches, UV light and chemicals
Low shrinkage and warping
Composition:
PETG (polyethylene terephthalate glycol-modified) – 80%
Fiberglass filings – 8 ~ 12%
Additives and colorants – 0 ~ 8%

Applications
Light-transmitting concept models
Transparent parts
Industrial design prototypes
Automotive parts
Models imitating glass
Decorative accessories
Parts tested outside
Parts required to be resistant to salts, acids, alkalis, and solvents
Technical Properties
Properties
Metric
English
Test Method
Bending Stress
55.40 MPa
8040 psi
ISO 178:2011
Specific Density
1.409 g/cm3
11.8 lb/gal
ISO 1183-3:2003
Shore Hardness (D)
72.2
72.2
ISO 868:1998