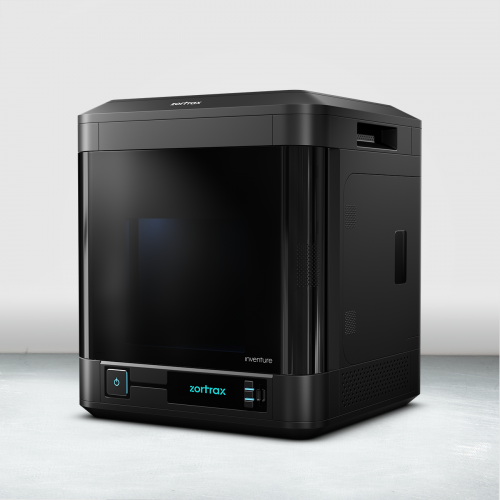 Outlet
Zortrax Inventure
A dual-extrusion 3D printer with an enclosed, heated build chamber.
Device features:
Works in the LPD Plus dual-extrusion technology

Supports single and dual-extrusion modes

Has a 135 x 135 x 130 mm workspace

Works with third-party filaments

3D prints high-temperature ABS-based filaments with water-soluble support

Has an enclosed, heated printing chamber

Has a built-in HEPA filter
1,056.00 USD

2,640.00 USD

Quantity:
Description
3D printing with dual and single extrusion
In the dual-extrusion mode, Zortrax Inventure prints with two materials: one for the model, and one for water-soluble support structures. In the single-extrusion mode, the printer works with one filament to print both supports and the model.
External materials support
Zortrax Inventure supports third-party filaments available on standard spools.
Heated printing chamber
Enclosed, heated printing chamber ensures the printing process is performed in a controlled environment. Warping of ABS-based materials is significantly reduced due to sustained, high temperatures in the chamber and optimal cooling rate.
Specification
135 x 135 x 130 mm (5.3 x 5.3 x 5.1 in)
Dual, printing with the model and support material
Dedicated for single extrusion
Z-ABS, Z-ASA Pro, Z-ESD, Z-FLEX, Z-GLASS, Z-NYLON, Z-PETG, Z-PLA, Z-PLA Pro, Z-ULTRAT, Z-ULTRAT Plus
Dedicated for dual extrusion
Z-ESD, Z-GLASS, Z-PETG, Z-PLA, Z-PLA Pro, Z-SUPPORT Premium, Z-ULTRAT Plus
Mechanically removed – printed with the same material as the model in single extrusion. Soluble – printed with a different material than the model in dual extrusion
3D Printer, Z-SUITE, 2 Material Spools, 5 Build Trays, Starter Kit, 2x Spool Holders, SD Card
Each delivered printer may have worked up to 90 hours during the quality control test prints.
LPD Plus (Layer Plastic Deposition Plus) – advanced technology depositing melted thermoplastics with dissolvable support structures
Automatic measurement of platform points' height
Ambient operation temperature
110V ~ 4 A 50/60 Hz, 240V ~ 1.7 A 50/60 Hz
Maximum power consumption
Supported input file types
.stl, obj, .dxf, .3mf, .ply
Supported operating systems
Mac OS Mojave and newer versions / Windows 7 and newer versions
* The weight includes: the device with the build tray and the power cable installed. It does not contain the cartridges with the materials.
Outlet devices may contain minor scratches and/or slight blemishes.