Post-processing
Zortrax Curing Station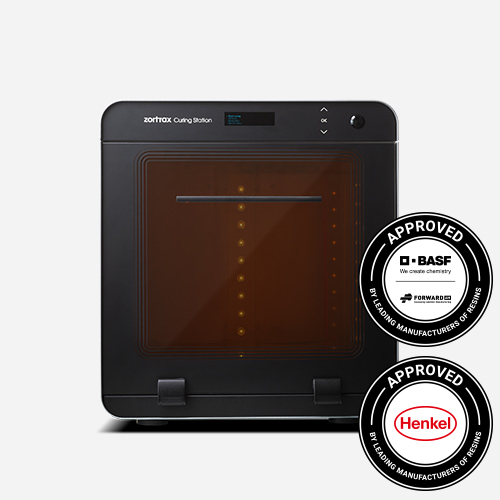 Post-processing
Zortrax Curing Station
Zortrax Curing Station is a professional post-processing device which provides UV light exposure required to achieve desired mechanical properties of models 3D printed with photopolymer resins.
Lead time: up to 60 business days.

Device features:
300 x 200 x 300 mm workspace volume;

UV light - 405 nm wavelength;

metal chamber with a mirrored surface supporting even light distribution around 3D prints;

touch control panel; single color display; on/off button;

door opening sensor;

UV filter embedded into the front door;
Description
Zortrax Curing Station has been designed to provide necessary UV curing for models 3D printed on a resin 3D printer. UV exposure time is set individually for each supported resin but usually does not exceed a few minutes. It's dedicated to post-process even the most professional and demanding resins (quality approved by BASF Forward AM and Henkel/Loctite).
Supports most popular resin 3D printing technologies: UV LCD, DLP, and SLA
The curing process is fully automated
Post-processing takes place in a controlled and safe environment to guarantee consistent results.
Soft close door with glass and a layer of UV filter
Together, the two layers ensure the user can safely watch the curing process with no UV radiation getting outside of the curing chamber. The device has a sensor which immediately shuts down the UV lamps when the door is open.
The curing chamber is made with metal sheets polished according to the class EN 10088-2 2P / ASTM No. 8 with mirror finish, which provide uniform UV exposure for the cured models. Consistency of exposure is further enhanced by a rotating table on which the parts being cured are placed. This way, the post-processed models are free of weak spots caused by insufficient UV exposure. A separate system prevents the UV LEDs from overheating.
Zortrax Curing Station was tested along with the Zortrax Inkspire 2 resin 3D printer in thorough validation procedures. In result, both are proven to achieve desired mechanical and thermal properties of chosen BASF Forward AM and Henkel materials when used together.
Worldwide warranty
Thanks to the global warranty and a network of Zortrax partners running service centers around the world, all users are provided with extensive technical support and assistance for each Zortrax device.
Specification
300 x 200 x 300 mm (11.8 x 7.9 x 11.8 in)
UV light - 405 nm wavelength
metal with a mirrored surface supporting even light distribution around 3D prints
made of a glass layer with a UV filter
door opening sensor and UV filter embedded into the front door
WEIGHT AND PHYSICAL DIMENSIONS
464 x 470 x 501 mm (18.3 x 18.5 x 19.7 in)
100 - 240 V AC max 2 A - 120 V
Maximum power consumption
Zortrax Curing Station, Starter Kit
All information contained in this brochure and specification is subject to change without notice. Each delivered device may have worked up to 20 hours during the quality control test.