3D Printers
Zortrax Inkspire 2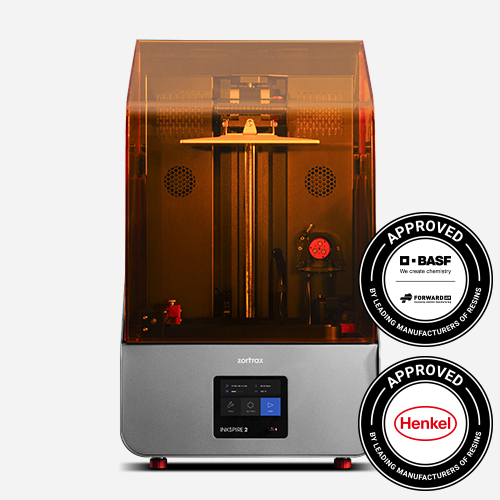 3D Printers
Zortrax Inkspire 2
Zortrax Inkspire 2 is a large volume 3D printer working in UV LCD technology in a highly automated process. A proprietary LED panel ensures even light distribution.
Lead time: up to 60 business days.

Device features:
UV LCD technology;

192 x 120 x 280 (mm) workspace;

UV LED light source 405nm;

Wi-Fi, LAN, USB connectivity;

XY precision 50μm, layer height 25μm/50μm/100μm;

UV cover;

Build platform removal mechanism and resin dripping;

Factory-calibrated build platform;

Resin level control system;

Blackout response system;

Printing process monitoring;

External materials support.
Description
Zortrax Inkspire 2 is a high-end, large volume UV LCD 3D printer designed to work with quality resins in a highly automated, streamlined process.

Wide range of resins
The Inkspire 2, along with its complementing post-processing devices, have been thoroughly validated by the world's leading brands like BASF Forward AM and Henkel. Parts 3D printed on the Inkspire 2 and then post-processed in Zortrax Cleaning Station and Zortrax Curing Station are certified as having mechanical and thermal properties that match or even exceed those declared by the manufacturer.
At the same time, the resin ecosystem is open, so the Inkspire 2 can serve external resins too.

Proprietary light engine
A proprietary LED panel installed under the monochromatic LCD screen ensures even light distribution across the entire platform and high optical precision of every single pixel regardless of how much of the build platform is filled. The same high dimensional accuracy can be achieved both in the center and on the edges of the platform.
The light engine is also powerful enough to work with many high-grade engineering resins (cured by light with 405 nm wavelength) that used to be supported only on industrial DLP machines without losing any of the UV LCD simplicity and ease of use.

The build platform is factory-calibrated which means the Inkspire 2 is ready for work out of the box. If necessary, the printer can be also calibrated by the user following a simple manual found in the menu. The calibration process is based on the adjustment of 3 platform screws.
Worldwide warranty
Thanks to the global warranty and a network of Zortrax partners running service centers around the world, all users are provided with extensive technical support and assistance for each Zortrax device.
A vast majority of the workflow is fully automated in the Inkspire 2.
The printer automatically measures how much resin is needed to print a given model and checks if the amount in the tank and in the bottle is enough.
Sedimentation of more advanced resins during longer prints is prevented by an automatic wiper.
When a power outage is detected, the Inkspire 2 can safely shut down and finish the printing process once the power is back on.
Finally, when the work is done, the Inkspire 2 can transfer the remaining resin back to the bottle. All these above-mentioned features make working with resins a simple, carefree experience.
Specification
192 x 120 x 280 mm (7.56 x 4.72 x 11.02 in)
pre-calibrated during quality control
Zortrax Henkel LOCTITE Resin Pro 410
Henkel LOCTITE 3D 3843 HDT60 High Toughness
Henkel LOCTITE 3172 HDT50 High Impact
Ultracur3D® EL 150
Ultracur3D® EL 60
Ultracur3D® EL 4000
Ultracur3D® ST 1400
Ultracur3D® ST 45
Ultracur3D® ST 80
Ultracur3D® RG 3280
Ultracur3D® RG 35
Ultracur3D® RG 50
Ultracur3D® RG 1100
Ultracur3D® FL 60
BlueCast X5 LCD/DLP Resin
BlueCast X10 LCD/DLP Resin
BlueCast Original LCD/DLP Resin
BlueCast X-One Resin
Zortrax Resin Basic
Zortrax Resin Tough
Zortrax Inkspire 2, UV Resin, Bottle Holder, FEP Film (set), Wiper Set, Resin Sensor Set, Starter Kit
integrated LED panel (wavelength 405 nm), ensuring even light distribution across the entire platform
mechanically removed - printed with the same material as the model
Ambient operation temperature
100-240 V AC 6.2 A 50/60 Hz
Maximum power consumption
.stl, .obj, .3mf, .dxf (only 2D models), .ply
Supported operating systems
Mac OS Catalina and newer versions
Windows 10 and newer versions
All information contained in this brochure and specification is subject to change without notice. Each delivered printer may have worked up to 90 hours during the quality control test prints.