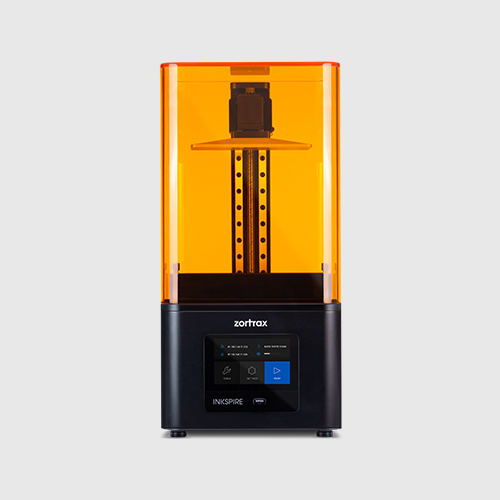 Sale %
Zortrax Inkspire
Fast and precise resin UV LCD desktop 3D printer.
Lead time: 7 days

Device features:
The XY resolution is 50x50 microns. 

Calibrates build platform semi-automatically.

The minimal layer height is 25 microns.

Has a build-in carbon filter.

Offers serial production capability. 

External 405 nm resins are supported. 

External slicing software is supported.

.zcodex and .cws file formats are supported. 

Workspace measures 74x132x175 mm.

Has Wi-Fi and ethernet connectivity. 

Has an intuitive touch interface.
1,990.00 USD

1,393.00 USD

The lowest price within 30 days: 1,393.00

USD

Quantity:
Description
Revolutionary resin UV LCD 3D printer
Zortrax Inkspire is a resin desktop 3D printer working in UV LCD technology. It's designed around a high-resolution LCD screen* with UV LED backlighting that ensures every part of a layer is exposed to the same amount of UV light to uniformly cure the resin. A single pixel measures just 50x50 microns while minimal layer height is only 25 microns. That's why the smallest details Zortrax Inkspire can 3D print are invisible to the naked eye. This means it offers quality of prints surpassing leading SLA 3D printers while working up to 8x faster. Zortrax Inkspire is perfect for engineering, short and medium series manufacturing as well as precision modeling in dental prosthetics or jewelry design. The printer works with dedicated Zortrax Resins. Third-party resins are also supported, provided they can be cured by light with 405 nm wavelength.
To guarantee the highest quality of prints on Zortrax Inkspire it is recommended to clean the models in Zortrax Ultrasonic Cleaner.
Dedicated Resins: Zortrax Resin BASIC, Zortrax Resin Tough, Raydent Crown&Bridge Resin, Raydent Surgical Guide Resin, BlueCast X5, BlueCast X10, BlueCast Original LCD/DLP, Druckwege Type D Dental Model Resin
External resins profiles available in Z-SUITE: PowerCast Opaque, PowerCast Burn, Siraya Tech Blu, AMERALABS AMD-3 BLACK MODEL, DMD-21 DENTAL MODEL, ApplyLabWork MSLA, HARZ Labs Model, HARZ Labs Art, HARZ Labs Dental, Dreve Foto Dent
In the box:
- Zortrax Inkspire 3D Printer
- USB Drive
- Wi-Fi Module
- Z-SUITE Software License & Quick Start Guide
- Cleaning Box
- FEP Film
- One-year warranty**
Sale devices may contain minor scratches and/or slight blemishes.
This outlet unit has permanent stains and discolorations on the frame.

Specification
74 x 132 x 175 mm (2.9 x 5.2 x 6.9 in)
Mechanically removed - printed with the same material as the model
Integrated UV lamp (wavelength 405 nm)
Zortrax Resin BASIC, Zortrax Resin Tough, Raydent Crown&Bridge Resin, Raydent Surgical Guide Resin, BlueCast X5, BlueCast X10, BlueCast Original LCD/DLP, Druckwege Type D Dental Model Resin
3D Printer, Z-SUITE, Starter Kit, Zortrax Photopolymer Resin BASIC (500 ml)
Weight and physical dimensions
210 x 210 x 420 mm (8.3 x 8.3 x 16.5 in)
315 x 312 x 530 mm (12.4 x 12.3 x 20.9 in)
.stl, .obj, .dxf, .3mf, .ply
.cws, .zcodex, .sl1, .zip
Supported operating systems
Mac OS Mojave*** / Windows 7 and newer versions
Ambient operation temperature
110 V ~ 1.4 A 50/60 Hz 240 V ~ 0.85A 50/60 Hz
Maximum power consumption
Zortrax Inkspire 3D Printer
Z-SUITE Software License and Quick Start Guide
All information contained in this brochure and specification is subject to change without notice.
Printer may have worked 10 hours during the quality control test prints.
* The LCD Screen is the most significant component of the UV LCD 3D printer and it has suggested replacement time of about 200 working hours. This period highly depends on the type of resin used most often. To keep your workflow uninterrupted, you always should have a spare LCD Screen Set at hand.

** Warranty terms:
European Union - 12 months
United States - 12 months
**Since the release of macOS Big Sur, we've been developing Z-SUITE's best possible operation on this system and all its future updates. The available version is fully functional, however minor bugs may occur.