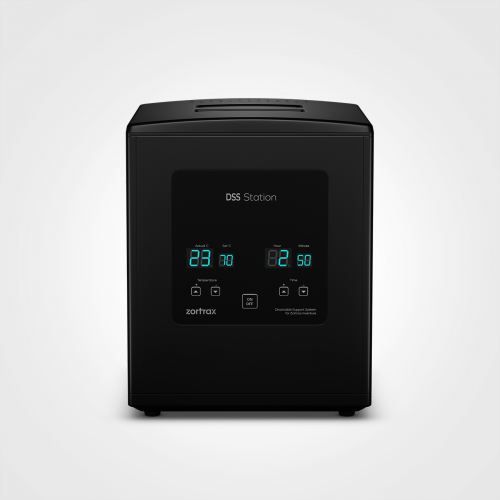 Sale %
DSS Station
Quick and easy-to-use Dissolvable Support System.
Device features:
Removes water-soluble support structures

Easy to set up

Works with all PVA water-soluble filaments

No additional solvents needed
649.00 USD

389.40 USD

The lowest price within 30 days: 389.40

USD

Quantity:
Description
Zortrax DSS Station for PVA Soluble Support Removal
Zortrax DSS Station is a device for water-soluble support removal. It's easy to use. Just set it up, fill it with water, put the model in, and take it out nearly support-free after a few hours. Designed to work with Z-SUPPORT Premium material, Zortrax DSS Station is also compatible with all PVA water-soluble filaments available on the market*.
*Some PVA-based filaments may contain components which are not soluble in water. If this is the case, some of the support material may remain on the model and need to be removed with a brush included in the Zortrax DSS Station tool set.
Specification
Maximum working temperature
110V ~ 9 A 50/60 Hz
240V ~ 4.2 A 50/60 Hz
Maximum power consumption
DSS Station, rising basket, rubber gloves, brush, drain pipe, power cable, quick start guide
WEIGHT AND PHYSICAL DIMENSIONS
External dimensions (W x D x H)
235 x 238 x 295 mm (9.2 x 9.4 x 11.6 in)
188 x 188 x 199 mm (7.4 x 7.4 x 7.8 in)
330 x 330 x 380 mm (13 x 13 x 15 in)