Zortrax Apoller SVS Device
Post-processing
Zortrax Apoller SVS Device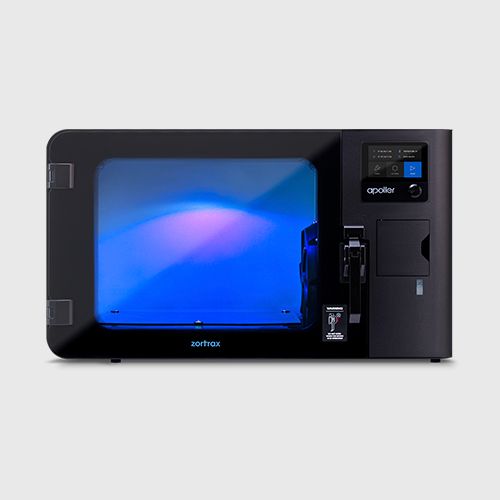 Post-processing
Zortrax Apoller SVS Device
A smart vapor smoothing device.
Lead time: 30 days

Device features:
300x250x250 mm smoothing chamber

Zortrax SVS technology

MEK and acetone compatibility

Intuitive touch interface

Wi-Fi and Ethernet connectivity

Compatibility with Z-ABS, Z-ULTRAT, Z-ULTRAT Plus, Z-ASA Pro, and Z-HIPS

Compatibility with external materials including ABS, ASA, and HIPS

Advanced vapor circulation system

ATEX compliant safety systems
Description
A smart and safe device for automated vapor smoothing
Zortrax Apoller is a smart vapor smoothing device that automatically removes visible layering from FDM 3D prints. It works works with both acetone and MEK. The smoothing process is fully automated and run by proprietary algorithms managing temperature, pressure, and concentration of solvent's vapors at all times. First, the model has to be placed inside the smoothing chamber. Once this is done, the chamber is heated enough to vaporize the solvent deposited in a sink below the glass tray. Vapors are then circulated spiraling upwards to evenly cover the model. Solvent's vapors condensate on surfaces leaving them with a glossy or mat finish, depending on the filament used. Finally, Zortrax Apoller dries the prints out to make them ready to use straight out of the chamber. Combined weekly output of 4 typical FDM 3D printers can be automatically smoothed within one day. Safety systems have been designed to meet the high standards required by the ATEX 2014/34/EU Directive regulating the equipment intended for explosive atmospheres.
Every unit requires an annual inspection conducted by the Zortrax Authorized Service to keep the EU ATEX certification valid and ensure safe operation of the device.
Compatible filaments: ABS, ASA, HIPS
Compatible solvents: Acetone, Butanone (MEK)
Compatible Zortrax filaments: Z-ABS, Z-HIPS, Z-ULTRAT, Z-ULTRAT Plus, Z-ASA Pro
Specification
300 x 250 x 250 mm (11.8 x 9.8 x 9.8 in)
Zortrax compatible materials
Z-ABS, Z-ASA Pro, Z-HIPS, Z-ULTRAT, Z-ULTRAT Plus
External compatible materials
WEIGHT AND PHYSICAL DIMENSIONS
671 x 396 x 388 mm (26.4 x 15.6 x 15.3 in)
340 x 270 x 260 mm (13.4 x 10.6 x 10.2 in)
Maximum working temperature
Minimum working temperature
Minimum gauge working pressure
Ambient operation temperature
110 V ~ 13.6 A 50/60 Hz
240 V ~ 6.3 A 50/60 Hz
Maximum power consumption
All information contained in this brochure and specification is subject to change without notice.
* Only pure acetone or MEK are supported and safe to use. Using other solvents may be dangerous and should not be attempted.