Zortrax Inventure & DSS Pack
3D Printers
Zortrax Inventure & DSS Pack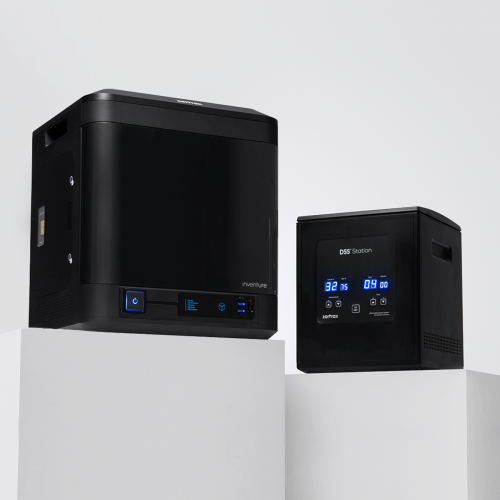 3D Printers
Zortrax Inventure & DSS Pack
A dual-extrusion desktop 3D printer with Dissolvable Support System
Zortrax Inventure features
Dual-extrusion
3D prints high-temperature ABS-based filaments with PVA soluble support
Enclosed, heated printing chamber
Built-in HEPA filter
Zortrax DSS features
Removes water-soluble support structures
Easy to set up
Works with all PVA water-soluble filaments
No additional solvents needed
9,239.00

PLN

11,363.97

PLN

with EU VAT

Quantity:
Description
An Industry-grade Desktop 3D Printer with Zortrax DSS Station
Zortrax Inventure is a dual-extrusion LPD Plus 3D printer which can print high-temperature ABS-based filaments with PVA-based support material designed to work at temperatures reaching nearly 245° C (505° F). An enclosed, heated printing chamber significantly reduces ABS shrinkage and a built-in HEPA filter prevents fumes from getting out of the printing chamber. Combined with Zortrax DSS Station, a device for automatic soluble support removal, Zortrax Inventure allows for nearly hands-free 3D printing from start to finish. DSS Station circulates water at the right temperature to efficiently dissolve PVA support structures.

Dedicated model filaments: Z-PETG, Z-PLA, Z-ULTRAT Plus, and Z-SEMIFLEX
Dedicated water-soluble support filaments: Z-SUPPORT Premium

Specification
135 x 135 x 130 mm (5.3 x 5.3 x 5.1 in)
Dissolvable – printed with a different material than the model
Material detection sensor
Chip with information about material (type, color, consumption)
Printing with the model and the support material
Model materials (Z-PETG, Z-PLA, Z-SEMIFLEX, Z-ULTRAT Plus) and support materials (Z-SUPPORT Premium)
3D printer, SD card, cartridge with model material, cartridge with support material, quick start guide, waste container, cartridge knob, power cable, build tray (spare), 5 build trays
External dimensions (WxDxH)
235 x 238 x 295 mm (9.2 x 9.4 x 11.6 in)
188 x 188 x 199 mm (7.4 x 7.4 x 7.8 in)
330 x 330 x 380 mm (13 x 13 x 15 in)
Maximum working temperature
110 V ~ 9 A 50/60 Hz 240 V ~ 4.2 A 50/60 Hz
Maximum power consumption
DSS Station, rising basket, rubber gloves, brush, drain pipe, power cable, quick start guide
LPD Plus (Layer Plastic Deposition Plus) – advanced technology with the system of Dissolvable Support Structures
Minimal optimal wall thickness
Resolution of a single printable point
X/Y axes: 400 microns Z axis: 90-200 microns
Maximum printing temperature (extruder)
Maximum chamber temperature
Ambient operation temperature
110 V ~ 4 A 50/60 Hz
240 V ~ 1.7 A 50/60 Hz
Maximum power consumption
Weight and physical dimensions
350 x 345 x 405 mm (13.8 x 13.6 x 15.9 in)
460 x 450 x 520 mm (18.1 x 17.7 x 20.5 in)
Supported operating systems
Mac OS X / Windows 7 and newer versions
Each delivered printer may have worked up to 50 hours during the quality control test prints.
* The weight includes: the device with the build tray and the power cable installed. It does not contain the cartridges with the materials.