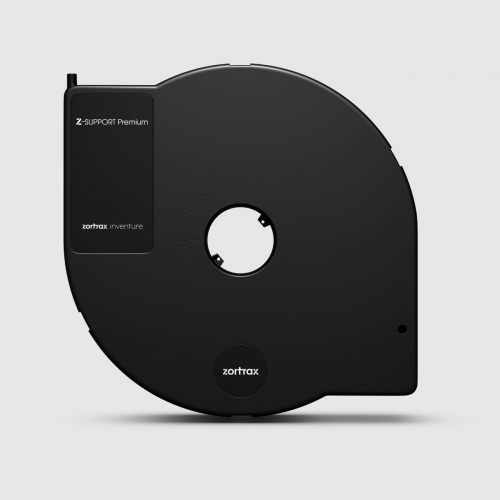 Outlet
Z-SUPPORT Premium
Water-soluble BVOH 3D Filament
A water-soluble support filament for 3D printing which has a fast dissolution rate and leaves no trace of itself on the model. It allows the production of complex models and moving mechanisms.
Container: Cartridge
Diameter: 1.75 mm
Net weight: 350 g ± 5%

Dedicated for:
Description
Water-soluble BVOH 3D Filament
Z-SUPPORT Premium is a BVOH support structure dedicated for Zortrax Inventure. It quickly dissolves in water and can be used in 3D printing in various temperatures making it compatible with a wide range of 3D printing filaments (Z-GLASS, Z-PETG, Z-PLA, Z-PLA Pro, Z-ULTRAT and Z-ULTRAT Plus). The material can be used to stack multiple batches of models one on top of the other to speed up short-series production.
Main Features:

Fast dissolution rate
Wide range of applications
Water soluble
Applications
Water-soluble support for:
High and low temperature 3D printing with ABS-based Z-ULTRAT Plus
Hollow parts
Complex models
Movable mechanisms
Objects 3D printed in one piece
Short-series production