Due to the declaration of bankruptcy by Wirecard, which is one of the largest financial service providers in Europe, the option of making payments via VISA and Mastercard on our websites is available via PayPal.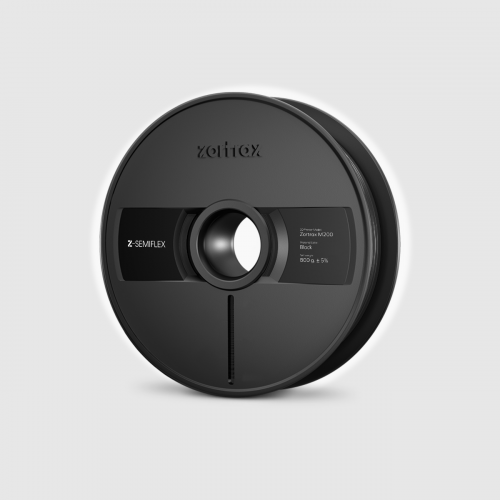 Outlet
Z-SEMIFLEX
Elastic and Resilient
A semi-elastic 3D printing filament resistant to greases, chemicals, tearing, and high temperatures. The material is perfect for industrial prototypes tested in adverse environments.
Container: Spool
Diameter: 1.75 mm
Net weight: 800 g ± 5%

Dedicated for:
Description
Flexible TPU Filament
Z-SEMIFLEX, a semi-elastic 3D printing material, is resistant to greases and high temperatures. Objects 3D printed with this rubber-like material can be squeezed and teared with no risk of damaging them. Z-SEMIFLEX is perfect filament for tools and prototypes used in adverse industrial environments or for 3D printing medical training models.
Main Features:
Elasticity and impact strength
Low shrinkage and warping
Resistant to greases, chemicals and high temperatures
Composition:
Polyurethane
Stabilizing agents
Additives and colorants
Applications
Industrial parts and tools
Automotive industry
Medical assessment models
End-use parts with medium elasticity
Parts resistant to high temperatures up to 130˚ C / 266˚ F
Parts exposed to greases, light acids and alkalis
Specification
180.16° C | 356° F | ISO 11357-3:2014
Izod Impact, Notched (break type: partial P)
38.88 kJ/m2 | 18.5 ft-lb/in2 | ISO 108:2004
Breaking Stress (specimen breaking: frayed)
3.18 MPa | 461 psi | ISO 527:1998