Due to the declaration of bankruptcy by Wirecard, which is one of the largest financial service providers in Europe, the option of making payments via VISA and Mastercard on our websites is available via PayPal.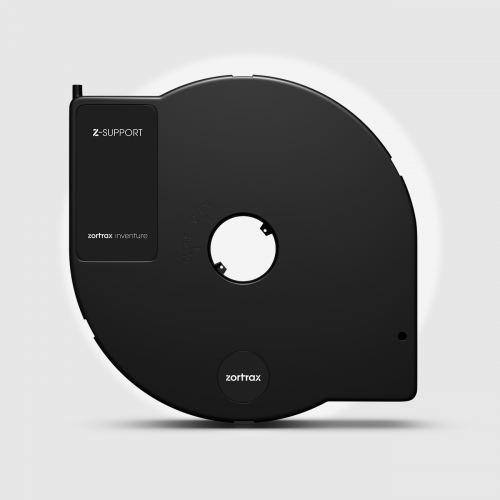 Outlet
Z-SUPPORT
Soluble Support Filament
Z-SUPPORT is a PVA-based, water-soluble support filament dedicated for Zortrax Inventure 3D printer. It can 3D print at temperatures around 180° C (356° F) and is compatible with Z-PLA, Z-PETG, and Z-SEMIFLEX materials.
Container: Cartridge
Diameter: 1.75 mm
Net weight: 350 g ± 5%

Dedicated for:
Description
PVA-based Support Filament
Z-SUPPORT filament consists mainly of PolyVinyl Alcohol (PVA), a polymer soluble in water. Compatible with Z-PLA, Z-PETG, and Z-SEMIFLEX materials, it allows for 3D printing support structures that can be easily removed even from almost inaccessible places. A 3D printed model has to be submerged in circulating water for a few hours. The exact time necessary for the material to dissolve the support structures depends on the amount of support on the model.
Main Features:
Soluble in water
Works with Zortrax DSS Station
Dedicated for Zortrax Inventure 3D printer
Compatible with Z-PLA, Z-PETG, and Z-SEMIFLEX
Applications
Hollow parts
Complex models
Working mechanisms
Objects 3D printed in one piece