Materials
Zortrax Resin Tough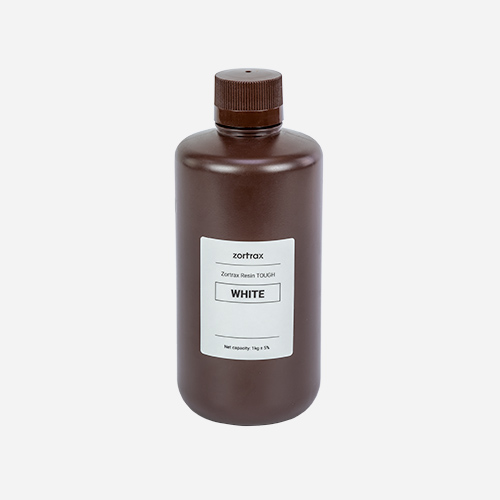 Materials
Zortrax Resin Tough
Durable and Versatile
A versatile resin offering good durability, impact resistance, and low odor. It allows users to produce models with smooth surfaces and sharp details.


Container: Bottle
Net weight: 1000 g ± 5%
Wavelength: 395-405 nm

Dedicated for:
Description
Durable Photopolymer Resin for 3D Printing

Zortrax Resin Tough White/Grey is a durable resin with low shrinkage and smooth surfaces. It is suitable for printing models that have to be assembled from multiple objects, as well as end-use products. 3D prints are impact-resistant and don't break easily. Resin Tough White shows improved resistance to yellowing, whereas Resin Tough Grey is highly scratch-proof.
Main features:

Toughness
Smooth surfaces
Versatile
Low shrinkage
Low odor
Applications
end-use products,
functional prototypes,
engineering prototypes,
jigs and fixtures,
elements of tools,
products' casing,
artistic projects,
action figurines,
movable parts.
Technical Properties
Properties
Metric
English
Elongation at break
13.9%
13.9%
Izod Impact, Notched
58.1 KJ/m2
27.6 ft-lb/in2