Materials
Zortrax Resin PRO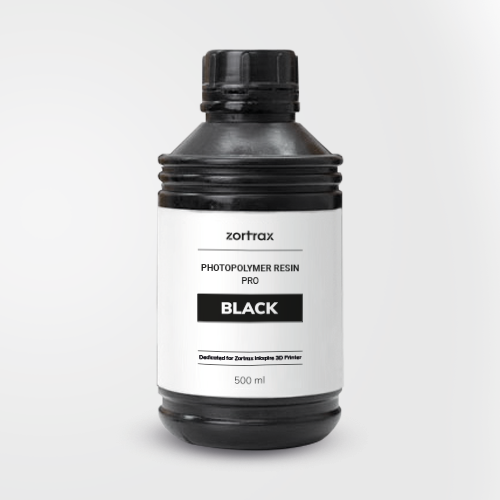 Materials
Zortrax Resin PRO
Impact and Bending Resistant
A resin for 3D printing with improved resistance to bending and impacts. With short curing times and low shrinkage it is easy to 3D print and ideal for functional and mechanical parts.
Container: Bottle
Net weight: 500 ml ± 5%
Wavelength: 405 nm

Dedicated for:
69.90

USD
Shipping, duties and tariffs not included.
Delivery:
21 business days
Description
Impact Resistant Resin for 3D Printing
Zortrax Resin PRO is a photopolymer which achieves short curing times and high detail with the additional benefit of high resistance to bending and impacts. The resin possesses very low shrinkage and contains no harmful organic compounds. It is designed for manufacturing functional parts or tools and is available in black.
Main Features:
Resistant to impacts and bending
Short curing times
Easy to print
Applications
Functional parts
Functional tools
Heavy-duty prototypes
Mechanical parts
Technical Properties
Properties
Metric
English
Test Method
Shore hardness
76.33 D
76.33 D
ISO 7619-1
Viscosity
33-57 mPa/s
0.000689 - 0.00119 lbf·s/ft2
DIN EN ISO 2431
Shrinkage
ca. 2% +/- 1%
ca. 2% +/- 1%
ISO 2577
Epoxy-based resin perfect for precise models.
Precise resin for use in dentistry.
Elastic resin for flexible parts.