Due to the declaration of bankruptcy by Wirecard, which is one of the largest financial service providers in Europe, the option of making payments via VISA and Mastercard on our websites is available via PayPal.
Materials
Raydent Surgical Guide Resin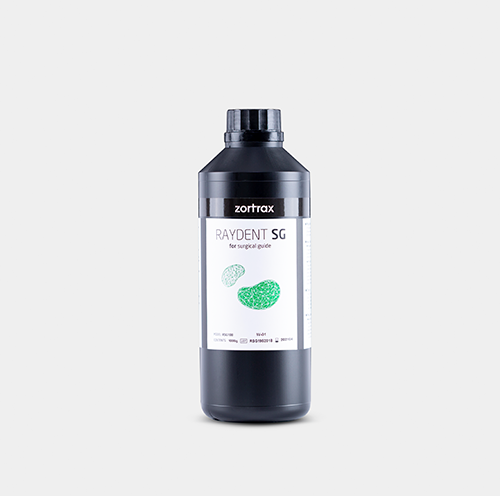 Materials
Raydent Surgical Guide Resin
Class I biocompatible resin
A crystal-clear resin meant for 3D printing precise dental surgical guides. Class I biocompatibility makes it safe for transient contact with a human body which is enough to perform drilling or other surgical procedures common in modern dentistry.
Container: Bottle
Net weight: 1000 ml ± 5%
Wavelength: 405 nm

Dedicated for:
Description
Resin for Dental Surgical Guides
Surgical guides 3D printed with Raydent Surgical Guide Resin are translucent which improves visibility during the procedure. High dimensional accuracy guarantees precise placement of implants or guidance for tools used by a dentist. Low viscosity and water-resistance make the printed guide easy to wash if necessary. All prints must be sterilized prior to intraoral use.
Main Features:
Class I biocompatibility
Translucency
High dimensional accuracy
Technical Properties
Properties
Metric
English
Test Method
Shore Hardness
80D
80D
ISO 178
Elongation at break
5.0%
5.0%
ISO D638M
Flexural modulus
2000 MPa
290075 psi
ISO 20795-1