Materials
Zortrax Resin BASIC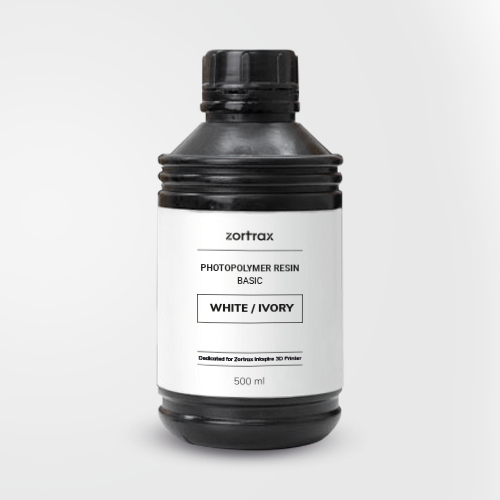 Materials
Zortrax Resin BASIC
Precise and Safe
A 3D printing resin that has low shrinkage and short curing times. It's both durable and easy to print and can be painted with commonly-used paints. Perfect for highly-detailed exhibition models.
Container: Bottle
Net weight: 500 ml ± 5%
Wavelength: 405 nm

Dedicated for:
59.90

USD
Shipping, duties and tariffs not included.
Delivery:
21 business days
Description
Epoxy-based Resin for 3D Printing
Zortrax Resin BASIC is a 3D printing photopolymer that achieves high detail and precision thanks to its low shrinkage. Once its cured it can be easily painted with commonly-used paints. The resin is safe for both human health and the environment. It also offers sharp edges and smooth surfaces.
Main Features:
Low shrinkage
Easy of painting
Safe for health and environment
Applications
Casings for electronics
Functional prototypes
Exhibition models
End-use parts
Translucent models (pigment free only)
Technical Properties
Properties
Metric
English
Test Method
Viscosity
33-57 MPa/s
0.000689 - 0.00119 lbf·s/ft2
DIN EN ISO 2431
Shrinkage
ca. 2% +/- 1%
ca. 2% +/- 1%
ISO 2577
Shore Hardness
82,2 D
82.2 D
ISO 7619-1
Precise resin for use in dentistry.
Elastic resin for flexible parts.
Professional resin for functional parts.