Materials
Druckwege Type D Dental Model Resin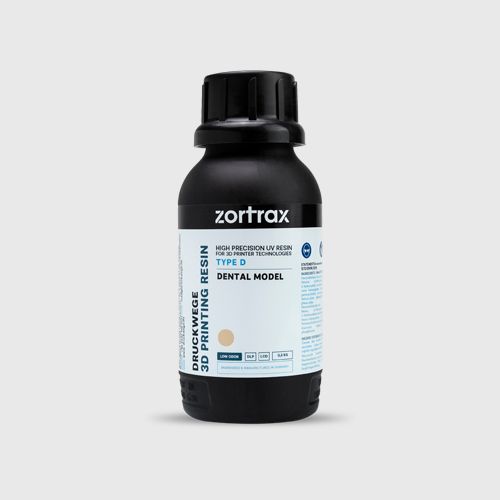 Materials
Druckwege Type D Dental Model Resin
Precise and Safe
A dental resin with a gypsum-like texture offering very low shrinkage, low odor, and high level of detail to achieve perfect levels of accuracy. Perfect for high-quality surfaces.
Container: Bottle
Net weight: 500 g ± 5%
Wavelength: 405

Dedicated for:
Description
Dental Photopolymer Resin for 3D Printing
Druckwege Type D Dental Model Resin is a dental resin for high precision 3D printing. The resin has a very low shrinkage, low odor, and achieves the level of detail necessary for modeling of teeth and gums. It has a gypsum-like texture well-known to most dentist and contains no volatile organic compounds making it safe to both health and environment.
Main Features:
Precision
Gypsum-like texture
Low shrinkage
Low odor
Applications
Models of teeth
Models of gums
Prototypes of dentures
Prototypes of crowns
Prototypes of bridges
Technical Properties
Properties
Metric
English
E-modulus
993.00 MPa
144 ksi
Viscosity
33 - 57 mPa*s
0.00068922 - 0.00119047 lbf-s/ft^2
Shrinkage
approx. <0.5%
approx. <0.5%
Hardness Shore
>80 D
>80 D
Tensile Strength
30.30 MPa
4390 psi
Elongation at Break
4.6%
4.6%