Due to the declaration of bankruptcy by Wirecard, which is one of the largest financial service providers in Europe, the option of making payments via VISA and Mastercard on our websites is available via PayPal.
Materials
BlueCast X5 Resin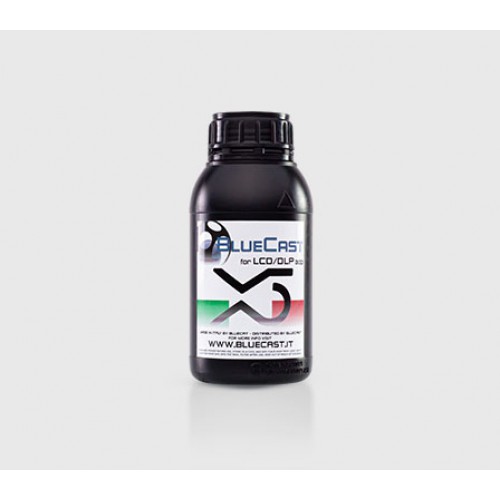 Materials
BlueCast X5 Resin
Versatile castable resin
Castable resin for jewelry applications. Functional equivalent of wax. Leaves no ash residue during burnout. Recommended for standard jewelry items like medals, filigree jewelry or stone presettings.
Container: Bottle
Net weight: 500 g ± 5%
Wavelength: 405 nm

Dedicated for:
Description
Castable resin for standard jewelry items
BlueCast X5 LCD/DLP is a versatile resin designed for investment casting in jewelry. It is a functional equivalent of wax used in the investment casting process. BlueCast X5 exhibits high dimensional accuracy and burnout properties with 0.00% ash residue. Sublimation starts from 130 C°.
The resin can lose color when exposed to UV light. It is completely normal and does not affect its specified properties.
Main Features:
Fast burnout at 850 C°
No post-curing
Non-toxic
Applications
Medals
Stones presetting
Filigree jewelry