Materials
BlueCast X10 Resin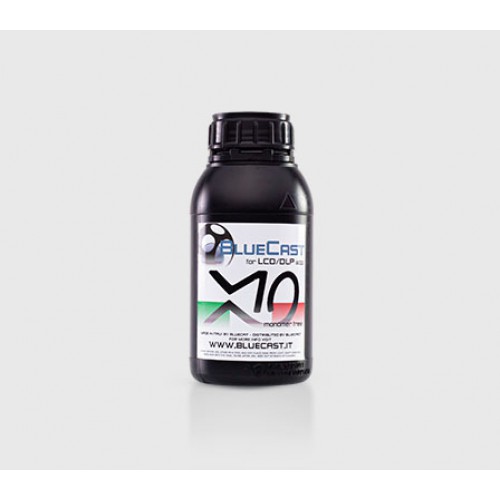 Materials
BlueCast X10 Resin
Advanced castable resin
Castable, non-toxic jewelry resin. Works with all types of investments and guarantees clean burnout with no ash residue. Recommended for large jewelry due to smooth surfaces and high dimensional accuracy.
Container: Bottle
Net weight: 500 g ± 5%
Wavelength: 405 nm

Dedicated for:
Availability:
Out Of Stock
Description
Jewelry resin for large investment patterns
BlueCast X10 LCD/DLP is an advanced castable resin made for investment casting of relatively large items requiring significant amounts of metal like silver jewelry or customized tableware. Storing a pattern for 7 days causes a negligible 0.7 % shrinkage which is particularly useful in when patterns need to be made in advance. Does not require post-curing.
The resin can lose color when exposed to UV light. It is completely normal and does not affect its specified properties.
Main Features:
Compatible with all investments
Clean burnout with 0.00% ash residue
High dimensional accuracy
High surface quality
Applications
Large jewelry pieces
Filigree jewelry
Stones presetting
Chaton settings
Medals
Signets