Materials
BASF Ultracur3D® RG 50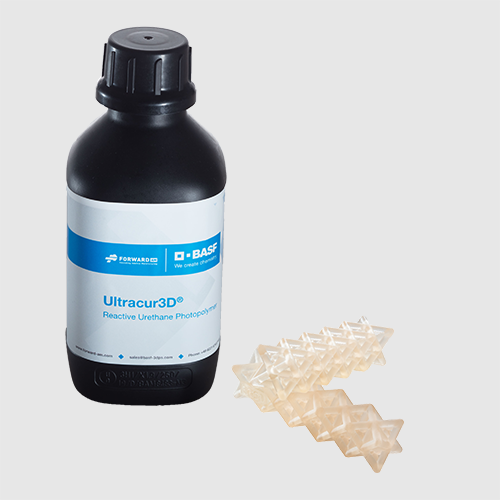 Materials
BASF Ultracur3D® RG 50
A rigid resin with medium viscosity

Ultracur3D® RG 50 by BASF is a rigid resin with medium viscosity, high print accuracy, and low cure shrinkage. It offers good temperature stability.

Container: Bottle
Net weight: 1000 g ± 5%
Wavelength: 385 nm or 405 nm

Dedicated for:
Description
Ultracur3D® RG 50 by BASF is a photopolymer resin medium viscosity, allowing ease of use and fast printing. The resin is characterized by high print accuracy and low shrinkage. Ultracur3D® RG 50 is clear.
The resin Is perfect for functional parts, automotive housings, molds, jigs, and fixtures.
Technical Properties
Properties
Metric
English
Test Method
Young's modulus
2300 MPa
334 ksi
ASTM D638
Tensile strength
63 MPa
9140 psi
ASTM D638
Hardness
85 D
85 D
ASTM D2240
Water absorption (24h)
1.12%
1.12%
ASTM D570