Materials
BASF Ultracur3D® RG 3280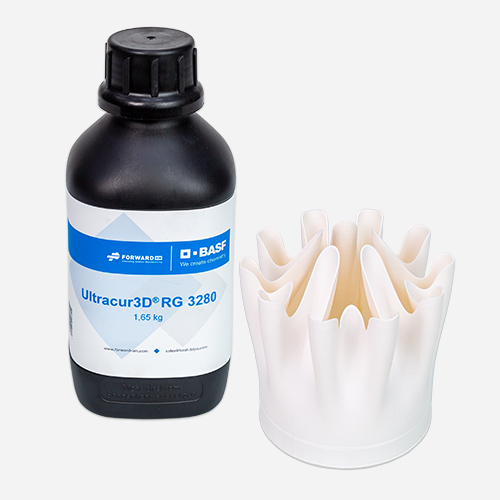 Materials
BASF Ultracur3D® RG 3280
Ceramic-filled, high rigidity photopolymer resin

Ultracur3D® RG 3280 is a specialized, ceramic-filled resin for wear-resistant parts. It offers exceptionally high stiffness and excellent resistance to high temperatures.
Lead time: 14 days
Container: Bottle
Net weight: 1650 g ± 5%
Wavelength: 385 nm or 405 nm

Dedicated for:
Availability:
Out Of Stock
Description
Ultracur3D® RG 3280 by BASF is a ceramic-filled photopolymer resin offering exceptional stiffness and resistance to temperatures reaching 280 ºC. The resin has a stable particle dispersion and low viscosity which makes it easy to handle and print with.

The resin is perfect for functional, wear-resistant parts, positioning and guide pins, thermal insulation, non-conductive or heat-resistant components.
Technical Properties
Properties
Metric
English
Test Method
Young's modulus
10 GPa
1450 ksi
ASTM D638
Heat deflection temperature at 0.45 MPa
>280 °C
>536 °F
ASTM D648
Shore hardness (D)
96
96
ASTM D2240