Materials
BASF Ultracur3D® RG 1100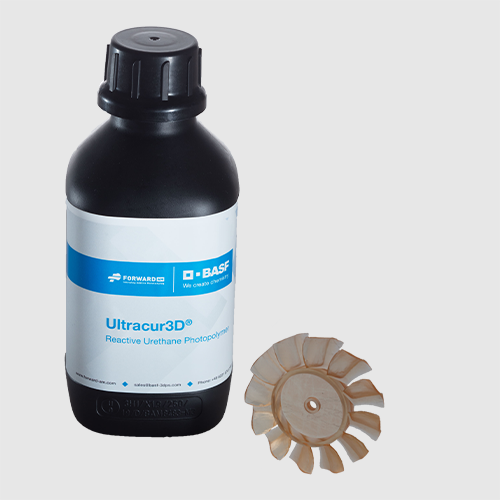 Materials
BASF Ultracur3D® RG 1100
High-strength resin

Ultracur3D® RG 1100 by BASF is a high-strength resin for demanding applications. It offers very good temperature and chemical resistance.
Container: Bottle
Net weight: 1000 g ± 5%
Wavelength: 385 nm or 405 nm

Dedicated for:
Availability:
Out Of Stock
Description
Ultracur3D® RG 1100 by BASF is a photopolymer resin characterized by very high stiffness. It offers engineering-grade mechanical properties, such as high heat deflection temperature (HDT 116° C), very good chemical resistance and low water uptake. Ultracur3D® RG 1100 is clear.

The resin is perfect for engineering and automotive parts, covers, brackets, and housings.

Technical Properties
Properties
Metric
English
Test Method
Young's modulus
3080 MPa
447 ksi
ASTM D638
Tensile strength
70 MPa
10.2 ksi
ASTM D638
Heat deflection temperature at 0.45 MPa
116 °C
241 °F
ASTM D648
Water absorption (24h)
0.32%
0.32%
ASTM D570