Zortrax M300 Dual & HEPA Cover
3D Printers
Zortrax M300 Dual & HEPA Cover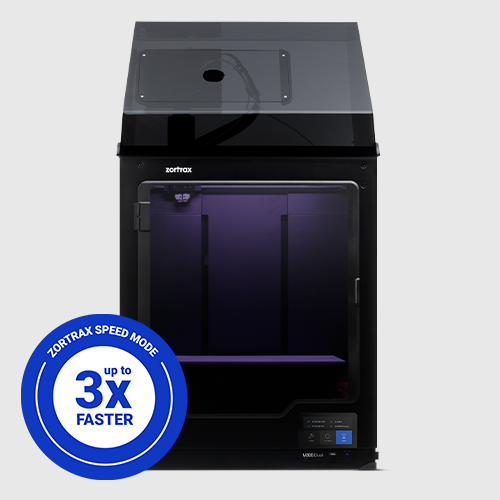 3D Printers
Zortrax M300 Dual & HEPA Cover
Professional large volume dual-extrusion 3D printer.
Lead time: 60 business days.
Zortrax M300 Dual features:

LPD Plus dual-extrusion technology
265 x 265 x 300 mm workspace
Wi-Fi, USB and Ethernet connectivity
Blackout response system
Built-in video streaming camera
Capacitive displacement sensor
Cooling system
Filament endstop mechanism
Single and dual extrusion modes
External materials support
Zortrax Speed Mode included
Compatible with metallic powder filaments
Zortrax HEPA Cover features:
Maintains stable temperature inside the printing chamber to reduce warping of ABS-based materials
Carbon filter eliminates unpleasant smells
HEPA filter catches over 99% of 3D printing emissions, including ultra fine particles
Electric fan with regulated speed
Description
Large-volume dual-extrusion
Zortrax M300 Dual relies on the dual-extrusion LPD Plus technology to simultaneously print with base and water-soluble support filaments in a large build volume measuring 265x265x300 mm.
Fail-safe 3D printing
The M300 Dual can detect a power outage, jammed filament, and material running out. In each case it pauses the print and saves the exact position of the printing head. This way your work can be resumed from the same spot when the problem has been dealt with.
Interchangeable build-platforms
With a capacitive displacement sensor the M300 Dual can automatically calibrate to work with glass, perforated, or other types of build platforms. This way it's possible to customize the printer for the project at hand.
Worldwide warranty
Thanks to the global warranty and a network of Zortrax partners running service centers around the world, all users are provided with extensive technical support and assistance for each Zortrax device.
Zortrax Speed Mode
Zortrax Speed Mode is a fully free feature available in the latest firmware update for M Series Plus and M300 Dual 3D printers, that allows speeding up your printing even up to 3 times.

Specification
265 x 265 x 300 mm (10.4 x 10.4 x 11.8 in)
0.4 mm (0.016 in) - standard
0.6 mm (0.024 in)
Dual, printing with model and support material
Two fans cooling the extruder
LPD Plus (Layer Plastic Deposition Plus) – advanced technology depositing melted thermoplastics with dissolvable support structures
150-300 microns (for 0.4 mm / 0.016 in nozzle)
300-500 microns (for 0.6 mm / 0.024 in nozzle)
450 microns (for 0.4 mm / 0.016 in nozzle)
Automatic or manual measurement of platform points' height
Dedicated for single extrusion
Z-ABS, Z-ASA Pro, Z-ESD, Z-FLEX, Z-GLASS, Z-HIPS, Z-NYLON, Z-PETG, Z-PLA, Z-PLA Pro, Z-ULTRAT, BASF Ultrafuse® PAHT CF15, BASF Ultrafuse® PP GF30, BASF Ultrafuse® PET CF15, 3DXTECH CarbonX PET-G+CF, Kimya PETG Carbon, Nanovia PETG CF, Nanovia PC-ABS V0
Dedicated for dual extrusion
Z-ABS, Z-ASA Pro, Z-ESD, Z-FLEX, Z-NYLON, Z-GLASS, Z-PETG, Z-PLA, Z-PLA Pro, Z-SUPPORT ATP, Z-SUPPORT Premium, Z-ULTRAT, BASF Ultrafuse® PAHT CF15, BASF Ultrafuse® BVOH, Nanovia PC-ABS V0, BASF Ultrafuse® 17-4 PH, BASF Ultrafuse® 316L, BASF Ultrafuse® Support Layer, BASF Ultrafuse® ABS.
Mechanically removed – printed with the same material as the model.
Soluble – printed with a different material than the model
Maximum printing temperature (extruder)
Maximum platform temperature
Ambient operation temperature
110V ~ 5.9 A 50/60 Hz
240V ~ 2.5 A 50/60 Hz
Maximum power consumption
Supported input file types
.stl, obj, .dxf, .3mf, .ply
Supported operating system
Mac OS Catalina and newer versions
Windows 10 and newer versions
3D Printer, Side Covers, Z-SUITE, Starter Kit, Spool of Model Material, Spool of Support Material, 1x Perforated Plate, 1x Glass Plate, 2x Spool Holders, Material Box, USB Memory Stick
All information contained in this brochure and specification is subject to change without notice. Each delivered printer may have worked up to 90 hours during the quality control test prints.
Particle reduction filter
100 - 240 V ~ 0.7 A 50/60 Hz
Maximum power consumption
WEIGHT AND PHYSICAL DIMENSIONS
Without filtering module (W x D x H)
496 x 483 x 280 mm (19.5 x 19.1 x 11 in)
With filtering module (W x D x H)
545 x 483 x 280 mm (21.5 x 19.1 x 11 in)
565 x 550 x 335 mm (22.2 x 21.7 x 13.2 in)
Device, Power Supply Unit, Filtering Module with HEPA and Carbon Filters