Zortrax M200 Plus & HEPA Cover
3D Printers
Zortrax M200 Plus & HEPA Cover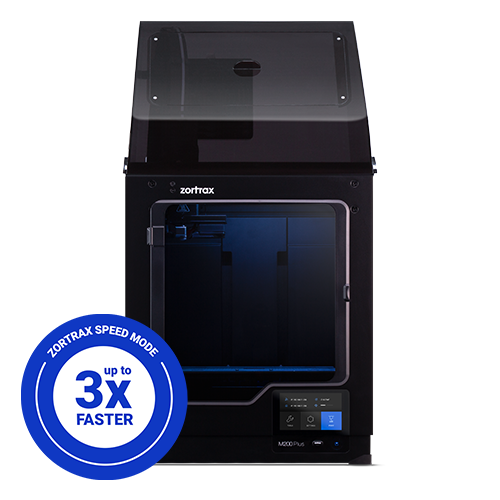 3D Printers
Zortrax M200 Plus & HEPA Cover
M200 Plus 3D Printer and Zortrax HEPA Cover.
A bundle of 3D printer and filtering device. Side Covers included.
Lead time: 60 business days.
Zortrax M200 Plus features:
LPD technology
200 x 200 x 180 mm workspace
Wi-Fi, USB and Ethernet connectivity
Blackout Response System
Built-in camera
User-friendly design of the touchscreen
Cooling system
Filament endstop mechanism
Flex-type materials compatibility
External materials support
Zortrax Speed Mode included
Zortrax HEPA Cover features:
Maintains stable temperature inside the printing chamber to reduce warping of ABS-based materials
Carbon filter eliminates unpleasant smells
HEPA filter catches over 99% of 3D printing emissions, including ultra fine particles
Electric fan with regulated speed
Description
Zortrax M200 Plus with Zortrax HEPA Cover
Zortrax HEPA Cover is a filtering device compatible with Zortrax M200 Plus wireless 3D printer. Based on the award winning Zortrax M200, Zortrax M200 Plus has been designed to work in large 3D printing farms. Zortrax HEPA Cover perfectly complements the M200 Plus in this application. Having the two working together, it's possible to maintain higher temperatures inside the printing chamber which significantly reduces shrinkage of ABS-based materials. HEPA filters catch over 99% of 3D printing emissions, including ultra fine particles, while carbon filters work to reduce unpleasant smells to ensure safe and smooth operation of a 3D printing farm.
Worldwide warranty
Thanks to the global warranty and a network of Zortrax partners running service centers around the world, all users are provided with extensive technical support and assistance for each Zortrax device.
Zortrax Speed Mode
Zortrax Speed Mode is a fully free feature available in the latest firmware update for M Series Plus and M300 Dual 3D printers, that allows speeding up your printing even up to 3 times.
Specification
200 x 200 x 180 mm (7.9 x 7.9 x 7.1 in)
0.4 mm (0.016 in) – standard
0.3 mm (0.012 in)
0.6 mm (0.024 in)
Single (compatible with demanding materials like TPU or nylon)
Radial fan cooling the extruder block
Z-ABS, Z-ABS 2, Z-ASA Pro, Z-ESD, Z-FLEX, Z-GLASS, Z-HIPS, Z-NYLON, Z-PCABS, Z-PETG, Z-PLA, Z-PLA Pro, Z-ULTRAT, Nanovia PC-ABS V0, BASF Ultrafuse® ABS
Mechanically removed – printed with the same material as the model
LPD (Layer Plastic Deposition) – depositing melted material layer by layer onto the build platform
90-140 microns (for 0.3 mm / 0.012 in nozzle)
90-390 microns (for 0.4 mm / 0.016 in nozzle)
300-400 microns (for 0.6 mm / 0.024 in nozzle)
450 microns (for 0.4 mm / 0.016 in nozzle)
Automatic or manual measurement of platform points' height
Maximum printing temperature (extruder)
Maximum platform temperature
Ambient operation temperature
110V ~ 5.9 A 50/60 Hz
240V ~ 2.5 A 50/60 Hz
Maximum power consumption
Supported input file types
.stl, obj, .dxf, .3mf, .ply
Supported operating system
Mac OS Catalina and newer versions
Windows 10 and newer versions
3D Printer, Hotend V3, Side Covers, Z-SUITE, Starter Kit, Material Spool, Spool Holder, USB Memory Stick
All information contained in this brochure and specification is subject to change without notice. Each delivered printer may have worked up to 90 hours during the quality control test prints.
100 - 240 V ~ 0.7 A 50/60 Hz
Maximum power consumption
Particle reduction filter
WEIGHT AND PHYSICAL DIMENSIONS
Without filtering module (W x D x H)
368 x 357 x 230 mm (14.5 x 14.1 x 9.1 in)
With filtering module (W x D x H)
426 x 357 x 230 mm (16.8 x 14.1 x 9.1 in)
405 x 380 x 255 mm (15.9 x 15 x 10 in)
Device, Power Supply Unit, Filtering Module with HEPA and Carbon Filters