Materials
Zortrax Resin FLEXIBLE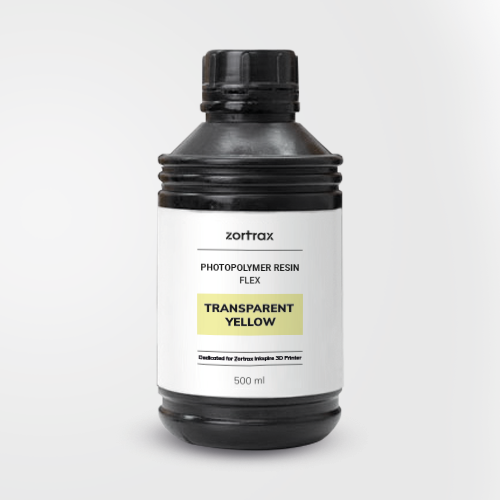 Materials
Zortrax Resin FLEXIBLE
Flexible and Resistant
An elastic resin which is highly impact resistant. It offers smooth surfaces, high level of detail, and sharp edges. The material can be used for flexible parts or protective casings.
Container: Bottle
Net weight: 500 ml ± 5%
Wavelength: 405 nm

Dedicated for:
99.90

USD
Shipping, duties and tariffs not included.
Delivery:
21 business days
Description
Elastic Photopolymer Resin for 3D Printing
Zortrax Resin FLEXIBLE is an elastic resin with an elongation at break level of 19%. It offers not only smooth edges, high details and sharp edges but also high impact resistance. The resin's unique qualities makes it perfect for precise, flexible parts, protective cases and models with softer surfaces.
Main Features:
Flexible
Safe to use
Impact resistant
Applications
Flexible parts
Soft surfaces
Impact-resistant models
Molds
Protective cases
Technical Properties
Properties
Metric
English
Test Method
Shore hardness
60 D
60 D
ISO 7619-1
Elongation at break
19%
19%
DIN EN ISO 527-1
Shrinkage
ca. 2% +/- 1%
ca. 2% +/- 1%
ISO 2577
Epoxy-based resin perfect for precise models.
Precise resin for use in dentistry.
Professional resin for functional parts.