Materials
Zortrax Resin DENTAL Model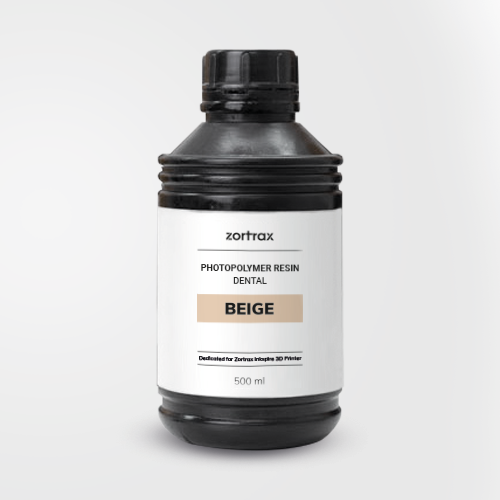 Materials
Zortrax Resin DENTAL Model
Precise and Safe
A dental resin with a gypsum-like texture offering very low shrinkage and high level of detail to achieve perfect levels of accuracy. Perfect for high-quality surfaces.
Container: Bottle
Net weight: 500 ml ± 5%
Wavelength: 405 nm

Dedicated for:
139.00

USD
Shipping, duties and tariffs not included.
Delivery:
21 business days
Description
Dental Photopolymer Resin for 3D Printing
Zortrax Resin DENTAL is a dental resin for high precision 3D printing. The resin has a very low shrinkage and achieves the level of detail necessary for modeling of teeth and gums. It has a gypsum-like texture well-known to most dentist and contains no volatile organic compounds making it safe to both health and environment.
Main Features:
Precision
Gypsum-like texture
Low shrinkage
Applications
Models of teeth
Models of gums
Prototypes of dentures
Prototypes of crowns
Prototypes of bridges
Technical Properties
Properties
Metric
English
Test Method
Tensile strength
9.87 MPa
1430 psi
DIN EN ISO 527-1
Shrinkage
2% +/- 1%
2% +/- 1%
ISO 2577
Elongation at break
6.1%
6.1%
DIN EN ISO 527-1
Epoxy-based resin perfect for precise models.
Elastic resin for flexible parts.
Professional resin for functional parts.