Zortrax M300 & HEPA Cover
3D Printers
Zortrax M300 & HEPA Cover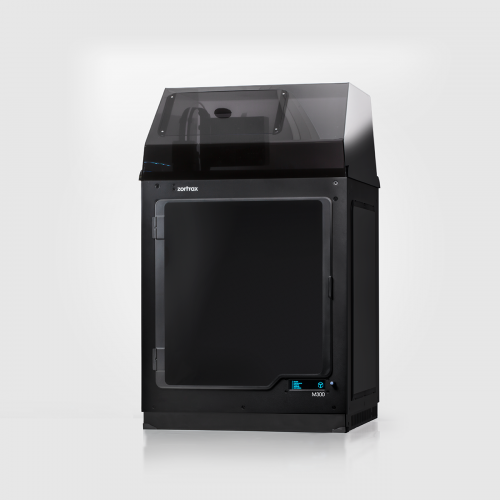 3D Printers
Zortrax M300 & HEPA Cover
A bundle of 3D printer and filtering device. Side Covers included.
Zortrax M300 features
Large build volume
Reliability
Dimensional accuracy
Precision
Side Covers included
Variety of dedicated filaments
External materials are applicable
Zortrax HEPA Cover features
Maintains stable temperature inside the printing chamber to reduce warping of ABS-based materials
Carbon filter eliminates unpleasant smells
HEPA filter catches over 99% of 3D printing emissions, including ultra fine particles
Electric fan with regulated speed
3,209.00

USD

Shipping, duties and tariffs not included.

Quantity:

Delivery:

14 business days
Description
Zortrax M300 with Zortrax HEPA Cover
Zortrax HEPA Cover is a filtering device compatible with Zortrax M300 3D printer. Zortrax M300 is renowned quality of prints and Zortrax HEPA Cover takes its performance even further while filtering out 3D printing fumes and unpleasant smells at the same time. With Zortrax HEPA Cover attached, it's possible to maintain higher temperatures inside the M300's printing chamber which significantly reduces shrinkage of ABS-based materials. HEPA filter catches over 99% of 3D printing emissions, including ultra fine particles, while carbon filter takes care of unpleasant smells.
Specification
300 x 300 x 300 mm (11.8 x 11.8 x 11.8 in)
Mechanically removed - printed with the same material as the model
Z-HIPS, Z-GLASS, Z-PETG, Z-ESD, Z-ASA Pro, Z-PLA Pro
3D printer, 2 spools of material, side covers, SD card, build platform, heatbed cable, power cable, spool holder, material guide, quick start guide, Z-SUITE software, starter kit
Zortrax HEPA Cover parameters
HEPA cover dimensions****
545 x 483 x 280 mm (21.5 x 19.1 x 11 in)
565 x 550 x 335 mm (22.2 x 21.7 x 13.2 in)
100-240 VAC, 0.7 A 50/60 Hz
Average energy consumption
Zortrax M300 / Zortrax M300 Plus
Zortrax HEPA Cover, filter module (electric fan with regulated speed, HEPA filter, carbon filter), power supply unit, front door, user's manual
LPD (Layer Plastic Deposition) – depositing melted material layer by layer onto the build platform
Minimal optimal wall thickness
Automatic measurement of platform points' height
Maximum platform temperature
Maximum printing temperature (extruder)
Ambient operation temperature
110 V ~ 5.9 A 50/60 Hz
240 V ~ 2.5 A 50/60 Hz
Maximum power consumption
Weight and physical dimensions
473 x 488 x 665 mm (18.6 x 19.2 x 26.1 in)
473 x 570 x 665 mm (18.6 x 22.4 x 26.1 in)
576 x 576 x 842 mm (22.7 x 22.7 x 33.1 in)
Supported operating systems
Mac OS X / Windows 7 and newer versions
Each delivered printer may have worked up to 50 hours during the quality control test prints.
* The weight includes: the device with the platform, power cable and spool holder installed. It does not include the material spool.
** It should be noted that the model's dimensions strongly depend on the technical condition of the printer as well as the shape, form and size of a print, the material used and the printing process conditions. The Z-axis accuracy does not include a tolerance of +/- one layer. Bear in mind errors of measurement and measuring equipment.
*** measurements were taken with an angle of 90˚.
**** Dimensions of an assembled, ready to use device.