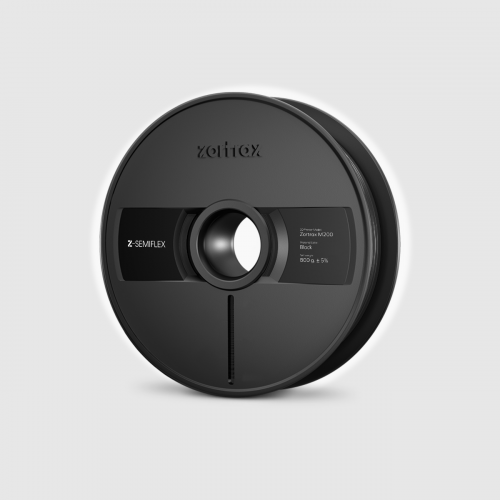 Materials
Z-SEMIFLEX
Elastic and Resilient
A semi-elastic 3D printing filament resistant to greases, chemicals, tearing, and high temperatures. The material is perfect for industrial prototypes tested in adverse environments.
Container: Spool
Diameter: 1.75 mm
Net weight: 800 g ± 5%

Dedicated for:
69.90

USD
Shipping, duties and tariffs not included.
Delivery:
14 business days
Description
Flexible TPU Filament
Z-SEMIFLEX, a semi-elastic 3D printing material, is resistant to greases and high temperatures. Objects 3D printed with this rubber-like material can be squeezed and teared with no risk of damaging them. Z-SEMIFLEX is perfect filament for tools and prototypes used in adverse industrial environments or for 3D printing medical training models.
Main Features:
Elasticity and impact strength
Low shrinkage and warping
Resistant to greases, chemicals and high temperatures
Composition:
Polyurethane
Stabilizing agents
Additives and colorants
Applications
Industrial parts and tools
Automotive industry
Medical assessment models
End-use parts with medium elasticity
Parts resistant to high temperatures up to 130˚ C / 266˚ F
Parts exposed to greases, light acids and alkalis
Technical Properties
Properties
Metric
English
Test Method
Melting Point
180.16° C
356° F
ISO 11357-3:2014
Izod Impact, Notched (break type: partial P)
38.88 kJ/m2
18.5 ft-lb/in2
ISO 108:2004
Breaking Stress (specimen breaking: frayed)
3.18 MPa
461 psi
ISO 527:1998