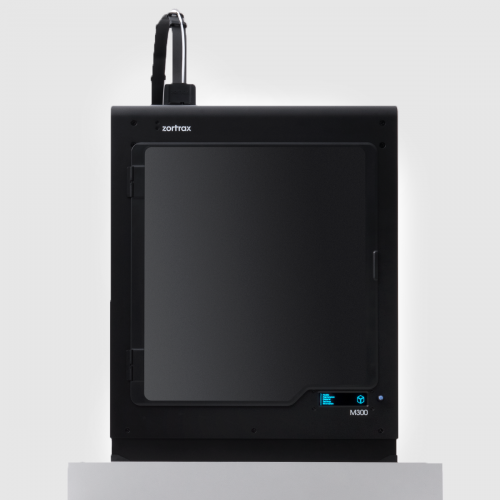 3D Printers
Zortrax M300
One of the biggest build platforms among Plug&Play 3D printers
Device features:
Large build volume

Reliability

Dimensional accuracy

Precision

Side Covers included

Variety of dedicated filaments

External materials are applicable
Availability:
Discontinued
2,990.00

USD
Shipping, duties and tariffs not included.
Description
The Large Desktop 3D Printer
A 3D printer equipped with large workspace that allows printing bigger models in one go. Zortrax M300 works with Z-SUITE slicing software and a large selection of dedicated and external 3D printing filaments. The 3D printer offers high quality prints due to repeatability and dimensional accuracy. Side Covers are included.
Dedicated filaments: Z-HIPS, Z-PETG, Z-GLASS, Z-ESD, Z-PLA Pro, Z-ASA Pro
Specification
300 x 300 x 300 mm (11.8 x 11.8 x 11.8 in)
Mechanically removed - printed with the same material as the model
Z-HIPS, Z-GLASS, Z-PETG, Z-ESD, Z-ASA Pro, Z-PLA Pro
3D printer, 2 spools of material, side covers, SD card, build platform, heatbed cable, power cable, spool holder, material guide, quick start guide, Z-SUITE software, starter kit
Weight and physical dimensions
473 x 488 x 665 mm (18.6 x 19.2 x 26.1 in)
473 x 570 x 665 mm (18.6 x 22.4 x 26.1 in)
576 x 576 x 842 mm (22.7 x 22.7 x 33.1 in)
Each delivered printer may have worked up to 50 hours during the quality control test prints.
LPD (Layer Plastic Deposition) – depositing melted material layer by layer onto the build platform
Minimal optimal wall thickness
Automatic measurement of platform points' height
Maximum platform temperature
Maximum printing temperature (extruder)
Ambient operation temperature
110 V ~ 5.9 A 50/60 Hz
240 V ~ 2.5 A 50/60 Hz
Maximum power consumption
Supported operating systems
Mac OS X / Windows 7 and newer versions
* The weight includes: the device with the platform, power cable and spool holder installed. It does not include the material spool.
** It should be noted that the model's dimensions strongly depend on the technical condition of the printer as well as the shape, form and size of a print, the material used and the printing process conditions. The Z-axis accuracy does not include a tolerance of +/- one layer. Bear in mind errors of measurement and measuring equipment.
*** measurements were taken with an angle of 90˚.